As an Amazon Associate, we earn from qualifying purchases. This means that if a reader clicks on a link or an image of the product, we may receive a commission. There is no additional cost to you — it helps pay for hosting and server costs. And it does not affect the quality of the content, as we always recommend our readers the best sources.
What seems like science-fiction in the old times has become reality. It's hard to believe that we're now capable of creating realistic robot puppies with full features and interactions like an actual dog. Already interested? Let's check out the best robot dogs for both kids and adults on our list.
1. Zoomer Interactive Puppy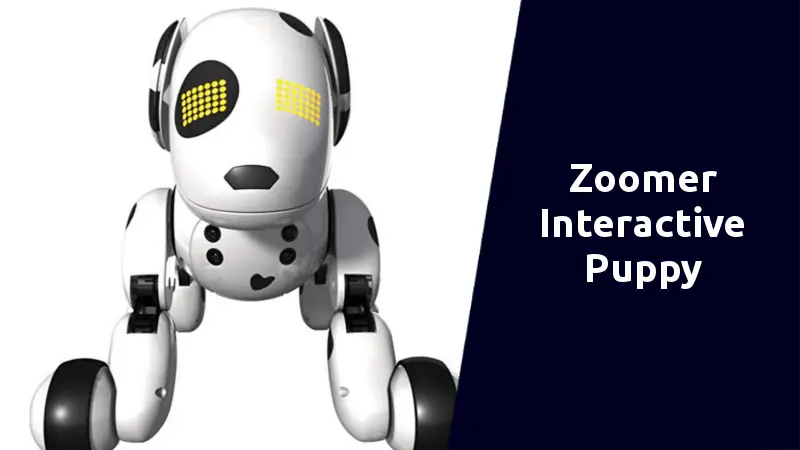 With Zoomer's latest invention, you'll receive an advanced robot with five different motors and wheels which allows it to perform natural movements. It's truly a robot puppy that could bark, talk, play with you, and do all kind of interactions with different objects. You can even see its facial expressions thanks to the unique LED eyes that response depending on its mood.
What has impressed us most was the hand gestures and voice commands features, in which you are able to teach and tell your robotic dogs to do awesome tricks using voice commands in English, French, and Spanish. It comes with impressive artificial intelligence that is capable of understanding lots of tricks. You can make it roll over, sit, wave its tail, follow you around the house, or stare its sparkling eyes at you like a real puppy.
However, the distance between you and the Zoomer Interactive Puppy must be between 30 – 90 cm for this feature to work properly. And your dog can only be active for about 30 minutes after an hour charge.
This robotic dog is designed for both adults and kids who have a passionate love with this adorable creature but aren't able to adopt one for themselves. You can do pretty much anything with it just like a real dog including teach him tricks or watch the kids have fun with it. In addition, a comprehensive guide on teaching every command for your dog is also included in the arriving package. So it would be quite easy getting used to the robot puppy.
It's no surprise that the Zoomer dog is on our list. With an efficient design, intelligent technology, and many available features there isn't any reason for you not to purchase this product if you're looking for your own robot dogs.
2. AIBO Robot Dogs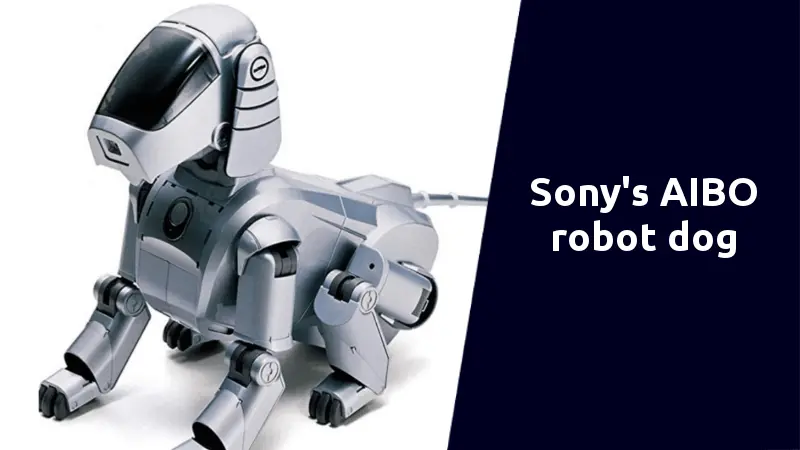 Every kid in the past would've always wanted to have one of the famous Sony AIBO Robot dogs as their friend. For us, it's like a dream to lay our hands in the latest version of the original Sony AIBO robot dogs that is even better than the previous ones.
The new AIBO Robot Dog features a self-charging feature that let your puppy to return the charging dock all by itself, a sensitive nose that's equipped with a camera, two eyeballs with screens on it, a smartphone app for management, and many other features.
You'll also receive an interactive toy bone and a pink ball, which are his favorite toys. You can tell him to pick them up, play with them, grab them with his tiny little paws, or even fetch them for you.
It is surprisingly lively and you can do almost anything with this robotic dog (well, other than doing a bath). The facial expression is quite impressive as the puppy is able to notice your mood through the way you speak and your action. Once it notices that you're smiling at it, it'll smile back. But don't yell at it or you'll see a pair of googly sparkling eyes looking at you like they're about to burst into tears.
You can even pet on him to receive positive interactions. The multiple artificial joints that are built inside the puppy making it possible to behave just like a real dog. It can do scratching, paw-licking, or playing dead with incredible realistic motion. Hence, it is undoubtedly the most realistic robot dog we've ever tested.
3. Hi-Tech Wireless Robot Interactive Puppy
Need a friend that can bark, sit, or be responsive to your commands, and most importantly, no pooping around the house or scratching the sofa? Then the Hi-Tech Wireless Robot Interactive Puppy Dog is exactly what you need. Not to mention it's quite inexpensive and would be a great starter for anyone who's looking for an entry-level robot dog.
The robot is equipped with a remote control that is capable of sending signals from up to 15 meters. Moreover, it can bark in different styles to show its emotions using the remote control. It can be your stylish walking partner that will scare the hell out of other dogs, and also a wonderful gift for your children.
Moreover, with cheerful songs included in its memory, the dog can even act as a skilled nanny who can guide the kids to sleep for you with ease. Once it has finished its job, the robot will automatically return to its Standby mode to reduce energy consumption.
4. Joy For All Companion Pets Golden Pup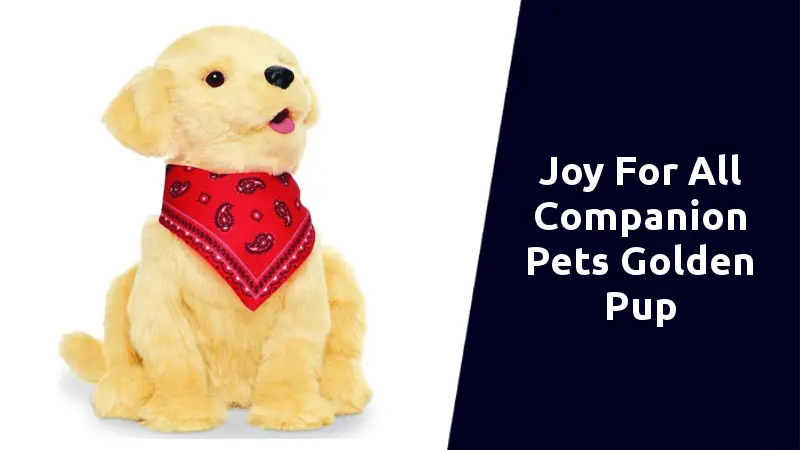 For older adults, there is nothing as important as a lifelong companion who can always be ready when needed. Knowing this, Joy For All introduces the Joy For All Companion Pets Golden Pup, which is a puppy-like robot featuring all the impressive features that we often see and more.
The advanced built-in sensor allows the robot dog to respond to sounds and touches from the outside. On top of that, voice commands are available whenever you feel like talking to it. The BARKBACK technology allows the dog to realize your voice and answer with adorable actions.
This little "fellow" would be much better than most of the real dogs out there, especially for elders and disabled people who need someone who can listen and be persistent with them.
5. Paw Patrol Action RoboDog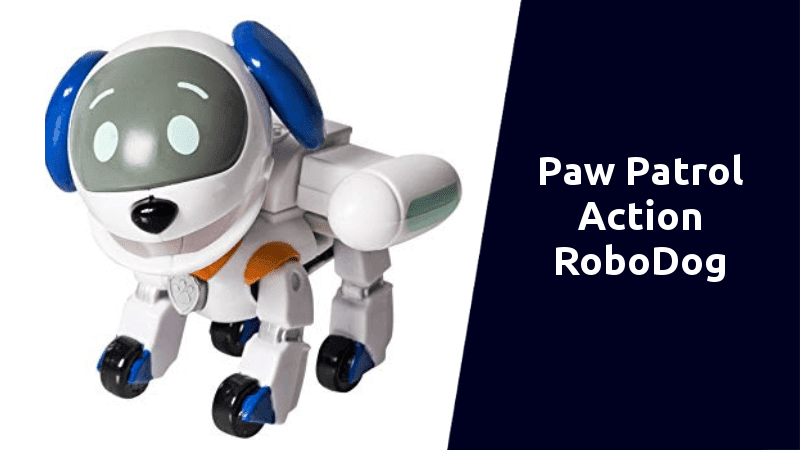 It is the cutest thing that could ever happen to you and your family. The Paw Patrol Action RoboDog is a super interactive robotic dog with impressive features that make it feel like a real dog. You can play with him how you want to without feeling bored. And the best part is, no bathroom struggles, chaotic vet times, or pooping problems with this dog.
The dog is perfect both for your kids who need something fun to keep them entertained and adults who're longing for a trusted friend. However, some might find it less interesting due to the lack of other features. But considering the inexpensive price, there is no complaint about it.
6. WowWee Chippies Robot Dogs
The Chippies is another wonderful invention from WowWee, the robotic puppy creator. They feature impressive and advanced chippies robot dogs that come with adaptive personalities of their own. It's like a dream come true for those who's dying to have a pet by their side but can't stand the fur or their asthma.
Chippo, Chipper, and Chippette also come with different colors which depict their characteristic. With integrated sensors and smart controls, the dogs will act like real individuals by exploring and guarding their bed and interact with one another. Hence, it's best to purchase the Chippies in groups since watching them would bring you so much fun.
You can use hand interactions to receive various responses from the Chippies, including sniffs, barks, kisses, or even sneezes from your teasing. The included remote control is also capable of command them to do multiple actions, such as roll, chase their tails, and so on.
7. Velocity Toys Bump and Go Dancing Dog
This one is a perfect robot dog for entertaining children, even adults will have enjoyable moments with it. The Velocity Toys' Bump and Go Dancing Dog changes its directions after each collision with other objects while moving.
Along with the catchy barking and funky melodies, the robot dog will keep your family entertained for all day long. Not to mention the light effects make it so much different from the rest.
The robot puppy operates using three AA batteries that are, unfortunately, not included in the package. But that's understandable considering the great pricing offered by Velocity Toys. However, some might find it disturbing for not having a volume control.
8. PEPPY PETS
Enough for the advanced robodogs for the adults, why don't we try a different approach for the children with the PEPPY PETS.
Though they're not technically "robotic" dogs since it's completely made from springs and uses friction for movements instead of mechanical joints or remote control, the Peppy Pups is still a desirable product for children who're looking for a pet to cuddle or accompany them for a walk.
It comes with various choices including Bulldogs, Dalmatians, Pugs, Unicorns, and even Dinosaurs. Each of them features real dog behaviors, such as interact, walk, run with your child, sleep and comfort them at night.
Summary: The best robot dogs for adults and children