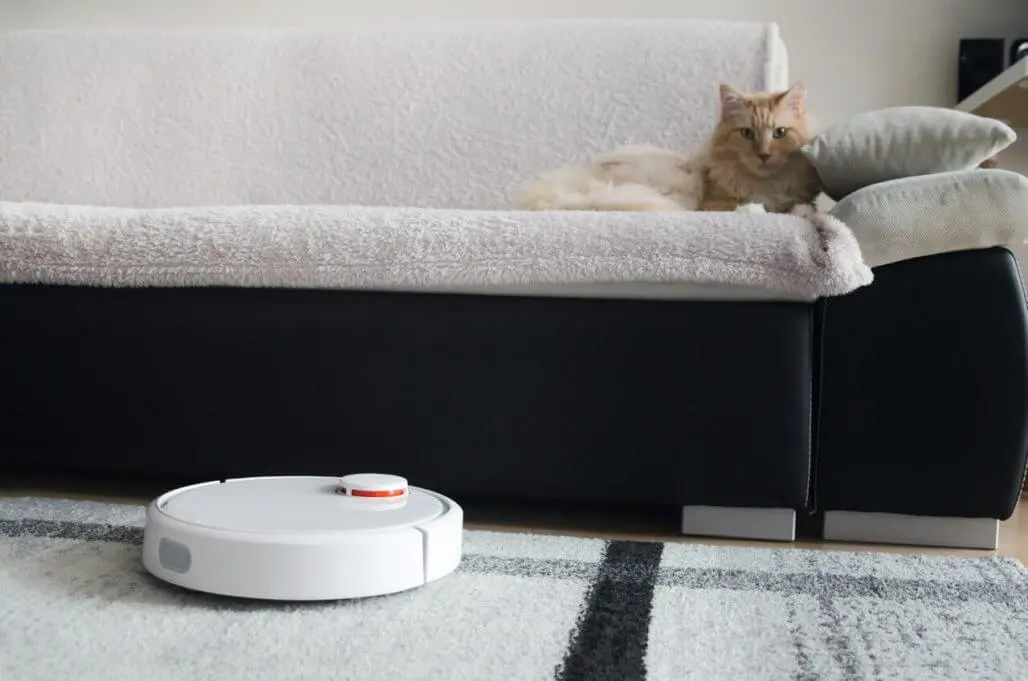 Are you raising pets and they shed their hair everywhere around your house? Are you looking for a way to keep your home free of pet hair? To give you the best hairless experience, we've thoroughly researched and now we're going to show you the list of best robot vacuum for pet hair on the recent market.
The iRobot Roomba 980 comes with a powerful suction that can draw out even the last piece of hair. The effective agitator does a great job in cleaning large cluster and debris. Also, the device is compatible with Amazon Alexa virtual assistant and can work entirely automatically.
On top of that, this best Roomba for pets never gets stuck thanks to its innovative obstacle detection feature. Moreover, its dirt detection system can scan and locate tiny dirt patches that can hardly be noticed by human eyes.
Overall, the iRobot Roomba 980 is a convenient and reliable device. However, the powerful motor makes it work quite loud, not to mention its high price.
This hard-working, consistent robot vacuum will be a great fit on wide rooms or commercial spaces that have little obstacles. Its powerful suction can clean out not only every piece of hair but also debris, dust, and large clusters.
The Neato Botvac Robot Vacuum has a relatively long battery life, allowing consistent working on all platforms. Plus, you can use Alexa to manually control its operations or check its current status.
Despite how useful it is, the device doesn't seem to work well in small spaces. It might unnervingly hit your furniture or even pets and people around. So, if you're living in a small apartment, you'd better find another product.
Samsung has done a great design job with the Powerbot R7065 – one of the coolest looking robot vacuums we've ever seen. The device comes in a shiny blackish style with a transparent dustbin placed on top. You can see how much dirt is gathered and stored inside, and thus, know exactly when you should clean out the dustbin.
With a smart camera facing upward, the device can detect people, furniture, and other obstacles to avoid bumps. Plus, the normal cleaning cycles will effectively deal with fine grit and pet hair. And like many other robot vacuum cleaners, this Samsung device works well with Amazon Alexa, so you can remotely control it using your voice or smartphone.
However, the battery isn't an impressive feature on the R7065. Your robot won't be able to work for an extended time and will require recharges to work again.
The iRobot Roomba 690 is a solid choice for mid-range robot vacuum cleaners. It comes with multiple desirable features while maintaining a relatively good price. Moreover, it works with Alexa and can be connected to your smartphone for convenient control.
Because of the affordable price, iRobot has done some small downgrades compared to the 980 lineups. In particular, the 690 series comes with less powerful cleaning suction and less appealing carpet brush. It will get the job done, but it won't be as effective as the rubber carpet agitator on the Roomba 980.
All in all, despite all the reasonable tradeoffs, it is still one of the best robot vacuum for pet fur.
The Ecovacs Deebot M81 Pro is another relatively cheap product that offers seriously useful features. It comes with an integrated Wi-Fi connection for you to control it directly via a smartphone app. This enables you to manually control your robot, set schedules, or choose from various cleaning modes.
On top of that, the wet mop is a distinctive feature that you will not likely see on any other devices. It allows you to wipe away hard stains and even pet urine, although it would take a little bit of deodorizer to get rid of that smell. Moreover, this vacuum cleaner features an excellent obstacle detector, allowing it to freely move around your apartment without causing mayhems.
This mid-tier robot vacuum cleaner is designed for light cleaning and house maintenance. It works great on most hardwood floors and can significantly reduce scattering hairs around your house. Besides, the Eufy Robovac 11+ is exceptionally small, making it suitable for consecutive cleaning.
The good obstacle detection feature allows the device to glide through hard floors. Moreover, you can easily schedule it or set different cleaning modes for simple, convenient cleaning.
However, the lack of integrated Wi-Fi connection is a major drawback if you prefer manual control through smartphones.
This premium robot vacuum offers a full suite of sensors, making it extremely smart. Also, it comes with a 3-stage cleaning system with suction, brush, and agitate modes which can be used in various household platforms. All of the modes can be automatically adjusted depending on the floor types.
You simply press the clean button and leave your device alone. That's thanks to the exceptional schedule setting which can last up to 7 weeks. Your Roomba 650 will automatically find its recharge dock.
However, its expensive price is not appealing for those who're on a budget.
The 790T Robot Vacuum Cleaner comes with various control modes, including Alexa, smartphone app, remote control, and self-button control. The smart automatic navigation allows it to have accurate cleaning on all types of floor, including hard floor, thin carpets, and rugs.
The powerful motor provides robust suction, making it easier to collect pet hair. At the same time, several integrated sensors (including ultrasonic radar detection, HSIR sensor, and anti-fall sensors) allow the device to go around the furniture, under beds and sofas, cross over 0.4-inch tall obstacles, and even 25-degrees slopes.
The Tesvor Robot Vacuum Cleaner comes with the intelligent One-Key Planning Tech that helps memorize its passed routes, allowing it to reach uncleaned area faster. Moreover, with the upgraded clean system equipped with dual rolling brush and brushless motor, this robot vacuum offers robust suction while maintaining low-noise operation.
You won't have to lay a finger on your Tesvor vacuum once you set it up. The comprehensive obstacle eliminator system which consists of fall prevention sensors, anti-collision sensors, virtual protection band, etc. will reduce any unwanted accident.
This robot vacuum is great for light cleaning thanks to its relatively small design and budget-friendly price. You can also schedule if for consecutive vacuuming using the programmable schedule with ease. Once the battery is low, it will automatically find the dock and recharge on itself.
On top of that, the anti-allergic HEPA filter locks all dirt, dust and hair (even the finest one) away in the dustbin, ensuring no clogging caused by dog or cat hair. However, the navigator on this robot vacuum cleaner isn't quite good as it can get stuck or bump into furniture quite often. It's obviously one of the best pet vacuum cleaners you can find!
This awesome robot vacuum runs anywhere around your house, even under beds or couches, to make those areas shiny. Also, the powerful suction combined with bilateral side brushes and a sturdy roller brush can pick up pet hair, dust, and dirt on various platforms.
The Ultrasonic Sensor helps detect obstacles to prevent collision and accurately locate the areas that need to be cleaned. The auto-recharging technology will signal the robot to return to its charging dock when only 20% of battery is remaining. Last but not least, the HEPA filter keeps your house free of odor and eliminates all pet hair allergic issues at the same time.
This botvac runs in an optimal zigzag path, which is an effective method for cleaning all pet hair, dust, and other debris. Even more, its strong engine delivers powerful suction that you can only find on higher tier products. Also, the device is well built and comes with various useful cleaning modes.
However, the small dustbin can be easily filled up and the dust sensor is pretty dull. But all in all, in terms of price, the Robins Robot Vacuum Cleaner is undoubtedly one of the best budget robot vacuums on the market.
Summary: 12 best robot vacuum for pet hair
Have you found your best robot vacuum for pet hair? Please let us know your selection by leaving your comment below.