As an Amazon Associate, we earn from qualifying purchases. This means that if a reader clicks on a link or an image of the product, we may receive a commission. There is no additional cost to you — it helps pay for hosting and server costs. And it does not affect the quality of the content, as we always recommend our readers the best sources.
When it comes to building a smart lighting system, automation is the priority of many homeowners.
Back to 2012, the only choice that you could probably get at that time is the Philips Hue light bulbs. But in the recent years, the smart lighting market has thrived with a variety of highly-automated products. This makes it so much harder for users to make up their mind among hundreds of selections from various brands.
The foolproof way to upgrade your lighting system
Just leverage domestic lighting control systems. You better do so for some great reasons.
First things first, it allows for energy saving, smoothly handling the increasing cost. For instance, adjusting and decreasing the light levels to fit the entire day's natural environment will help reduce energy consumption. Also, thanks to the remote connection to a lighting system via handy software, you can control lighting for various settings with ease.
What is more? The proper ambient light levels in your place can positively affect your health and morale. Likewise, by using a phone app, you will effortlessly play with light or color levels and transform spaces into larger and brighter ones, for example.
With lighting controls, security and durability should never be your concerns. Lights can get programmed in a breeze for occupancy simulation in your house, deterring intruders. Further, compared to standard lighting, the longevity of decent lighting and intelligent controls is higher.
Smart lighting system for home automation: Your best picks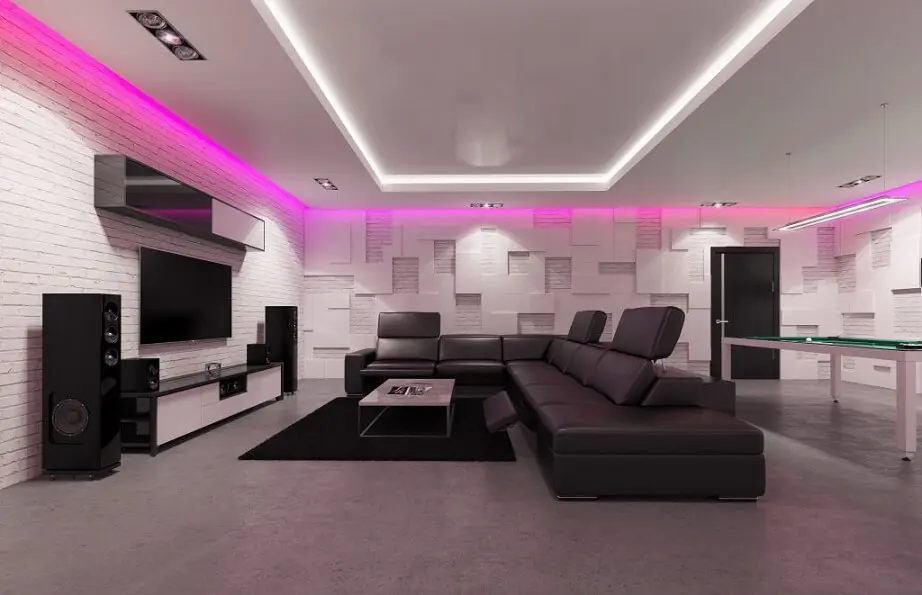 1. Flux Bluetooth LED Smart Bulb
Coming at the same price range as the LUCERO light bulb, the Flux Bluetooth LED smart bulb is capable of providing you multiple control over a group of bulbs. It basically has all features like the mentioned twos, but with the faster startup time as well as a long lifespan of approximately 22,000 hours. This will actually help you save money in the long run.
Another interesting feature of the Flux Bluetooth LED smart bulb is that you can create your own custom program using the app included. You can also play music from your smartphone or tablet using the music sync function.
However, the color range is quite limited, which might don't sound appealing to many users. Also, there is a small delay, from when you start to turn the light switch to when the light is powered on.
2. Philips Hue Starter Kit
Philips is the granddaddy in the smart lighting system industry. And its famous line of products, the Philips Hue, is without a doubt one of the best smart home lighting systems on the market. It has a large collection of different packages, ranging from under $10 to over $200. The Philips Hue Starter Kit, true to its name, delivers the best smart lighting system for beginners.
It comes with every equipment you need for setting up the light system, including one hub and four Hue bulbs. Moreover, this convenient equipment is compatible with Amazon Alexa, Google Home, Nest, and Apple Homekit. So, it wouldn't be a problem connecting the lightbulbs to your smart home assistant. After that, you can enjoy all of its features.
About the drawback, the Philips Hue Starter Kit cannot operate without a hub plugged into the router. Besides, some users complained that these bulbs seem to get hot pretty fast.
3. Cree A19 Dimmable LED Light Bulb
This smart, inexpensive, and versatile light bulb is capable of delivering the powerful lighting experience with minimum electricity consumption. It comes with the advanced omnidirectional lighting, providing much more efficient light for your room. The device can connect to multiple smart devices as well as the Amazon Alexa.
Moreover, the bulb is long-lasting, which can bright for about 25,000 hours (more than 22 years). It's also energy-efficient and can save you about $127 in energy (according to the manufacturer).
You can easily program your smart bulbs to turn on/off anytime you want via your phone or voice commands. But if you're using the Alexa, you must purchase the non-included hub for Wi-Fi connection which could cost you a few extra. Also, to set the bulb, you need to turn it on and off for specific amounts of time, several times in a row, making the setup a bit complicated procedure.
4. LIFX Mini 800-Lumen LED Light Bulb
Are you in the market for a double-rainbow? If you are, look no farther than Lifx, the vastly popular Australian illuminators. Lifx's Mini 800 Multicolor provides more than 15 million customizable shading choices with simple install and dimming capabilities — every of this without the requirement for a pesky hub.
Any bulbs from Lifx will connect straightforwardly to your house's Wi-Fi, and you can control them with ease thanks to Apple HomeKit, Google Assistant, and Alexa. You can make use of the Lifx app, accessible for Android and iOS, to group bulbs into various zones depending on Lifx-curated shading themes, preset scenes, time of day, and mood. Plus, need a get-away? – Then, program the lights to switch on and off simultaneously for your house security while you are having a great time at Disney with your children (simply ensure the switches of your light are on!), and next sign in and stop the "away" routine since you are back home.
Besides, Lifx takes pride in their intuitive IFTTT channel for any genuine smart-light geeks; the brand allows you to program the bulbs to respond to music, weather conditions, and your very own timetable. Envision showing up home following a tiring day – When you stroll into your home, the smart lights in your living room are set to delicate, beautiful golds, and your Echo Dot welcomes you by name and tunes to your preferred delicate piano playlist. What is more to expect?
Lifx packs the entirety of this multicolor magnificence inside an 800-lumen bulb that just pulls in about nine watts, which makes the Mini a heavenly selection for energy savings, as well.
5. Kasa Smart Wi-Fi LED Light Bulb
The famous Kasa Smart lighting system features a large collection of different products with relatively inexpensive pricing. It works well with Amazon Alexa and Google Assistant. So, you can control it from anywhere using a smart device or your voice commands. The dimmable lights deliver strong and comfortable brightness that sooth your eyes.
On top of that, the bulb doesn't need a hub to work with. You simply screw it in and set it up. Moreover, you can use the Kasa Scenes & Schedules feature to program your light bulbs for automatic On and Off even when you're away from your home. But remember, you will need at least a Wi-Fi connection of 2.4 GHz to do that.
6. Sengled Smart Light Bulb Starter Kit
Sengled is known as a line of smart lights — a couple of them embedded with extra attributes such as motion sensors and surveillance cameras — that are not only well-priced but also deliver an extraordinary ecosystem. While these lights now sure ask for a hub, the company has revealed that it is trying and moving away from needing one.
With that being said, at the moment, you should ensure you are putting that hub around 120 feet at furthest from the lights you are utilizing, or they will not be able to operate well.
It is anything but difficult to install the Smart LED bulb that features the motion sensor. That is not all; the app incorporates a performance section that lets you observe the consumption of energy the bulbs draw, being fantastic for people attempting to decrease their home utility bills. One thing to note, since one hub will deal with multiple bulbs, the cost gets diminished when you include more gadgets.
For another plus point, Sengled can work with various networks and platforms, say – Comcast's Infinity X, Samsung SmartThings, IFTTT, and Zigbee — in addition to Google Assistant and Amazon Alexa.
7. Harth Sleep-shift Light Bulb
We human beings are our own most severe enemies with regards to getting off our smartphones and hitting the hay. It is nothing unexpected there is an entire corner of the light market that is simply committed to quieting our overactive minds to rest.
Harth's Sleep Shift Bulb is genuinely the most excellent that sleep science brings to the table and a powerful solution to your restless brain.
Though it is not a "smart" bulb as far as programming and apps go, the whole brains behind this model are the attention of the brand to diminishing the upsetting blue light output that vast numbers of our preferred mobile devices produce and discharge to be replaced by far warmer amber shades — lighting which triggers natural nightfall before you go to bed.
Just by the construction of the unit, the Sleep Shift bulb boosts much healthier resting as it will keep you closer to your actual circadian rest cycles (the natural rest-and-wake responses of your body to the sun) and raises melatonin generation, hence making it more straightforward to really sleep and remain asleep for the proper measure of time.
As a bonus, the bulbs generate a particular arrangement of calming wavelengths, so going to bed in the wake of a monotonous day at work is far simpler.
8. WiZ IZ0087583 LED Light Bulbs
Wiz's Smart bulbs have a direct connection to your Wi-Fi and do not leverage a separate bridge or hub. In case you have got a smart hub installed, connecting Wiz bulbs is simple via the use of Conrad Connect or IFTTT. These models have a broad series of sizes, fitting, and shapes, with more than 15 unique styles to opt for.
You will not be able to go wrong with Wiz starter set and what number of IFTTT applets accessible may impress you. The top choices include one which switches all lights on as some intruder is noticed around evening time and one that will turn one light (or lights) a specific shading since your preferred TV series is going to begin.
The vacation mode of Wiz lights is another fantastic feature; you can go for it using the smartphone app of the system. This turns the lights on and off in patterns that stimulate your space being lived in, thus most likely helping prevent robbers.
9. C by GE A19 C-Life and C-Sleep Smart LED Light Bulb Combo
The range of the C by GE has become increasingly popular over the last few years. It now incorporates various smart switches for dimming diminish your lights, powering them off and on, along with switching between lighting scenes set in advance of the use. The brand additionally has partnered with Google, where a Google Nest Hub smart display or Google Home smart speaker can control the bulbs directly.
C by GE bulbs come with a remarkable feature where they continually adjust throughout the day to help your rest/wake cycle as well as the circadian rhythm. They will brighten during your morning, and dim and soften later on your evening.
One thing to note, C by GE sells five unique sorts of the smart wall switch. Else, it is okay to control the bulbs by speaking to the Google Assistant on the phone or using the smartphone app of the company.
Summary: Top 9 best smart lighting system for home automation
With all that information, hopefully, you can select your best smart lighting system at reasonable pricing. Thanks for reading and see you later in our future posts.