As an Amazon Associate, we earn from qualifying purchases. This means that if a reader clicks on a link or an image of the product, we may receive a commission. There is no additional cost to you — it helps pay for hosting and server costs. And it does not affect the quality of the content, as we always recommend our readers the best sources.
Introduction
Home robots seem to be the gadgets of our future. However, we should remember that they have started to integrate into our lives since the 1950s. Yes, this is true. In fact, washing machines and vacuum cleaners were our first robot helpers. Actually, when we talk about home robots we think about robot maids, robot companions and robot guards.
Notably, it was a couple of years ago that Bill Gates predicted that there will soon be "a robot in every home".
Even more, according to Stanford's "Artificial Intelligence and Life in 2030" report, integration of emerging AI technologies in robotics would enable faster adoption of domestic robots by 2030.
In this article, we are going to discover existing home robots and their current use cases.
Moreover, we will try to assess each home robot type and introduce their advantages and disadvantages.
Are you ready to enter into the future home and see its potential?
Let's move forward.
1. Cleaning robots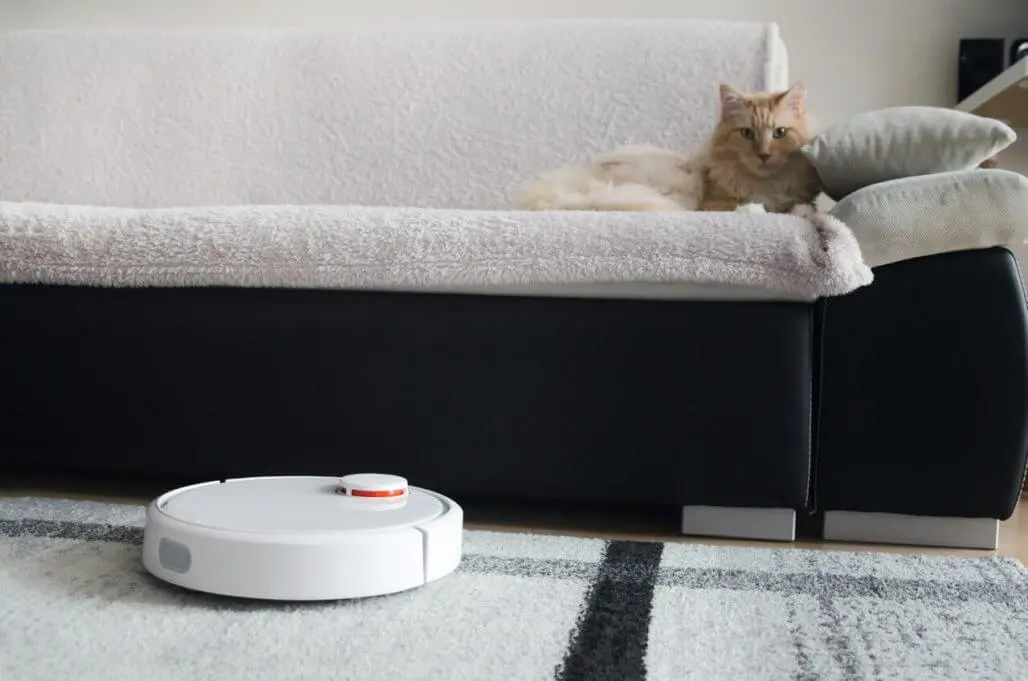 Cleaning robots use cases
These robots are one of the first home robots that entered our lives and made it easier. In fact, most cleaning robots are now in their 6th generation. There are many types of cleaning robots:
vacuum and floor cleaning
lawn mowing
pool cleaning
window cleaning, etc.
In fact, the cleaning robot's market emerged in 2015. Many new companies launched innovative technologies in this field.
These robot helpers now perform a number of cleaning functions. Particularly, They allow to more efficiently use human labor and time. For example, window washer robots eliminate the risks of falling from high positions. Besides, floor cleaning robots can identify obstacles and maneuver around them.
Cleaning robot products
Here are some good examples of home cleaning robots.
The producers of the Figla cleaning robot created a robot that can clean both indoor and outdoor surfaces. Another Switzerland company have developed window cleaning robots: the Gekko and the CleanAnt. They freely clean the outer surfaces of skyscrapers. What's more interesting, these robots reduce waste by filtering and recycling water. Moreover, they perform perfectly even in the high-speed wind.
Another thing, many hospitals use bacteria cleaning robots, such as Xenex. The robot helper is easily wheeled from room to room. It focuses on high contact areas and needs only 5 to 10 minutes to disinfect a room.
Things are getting more interesting.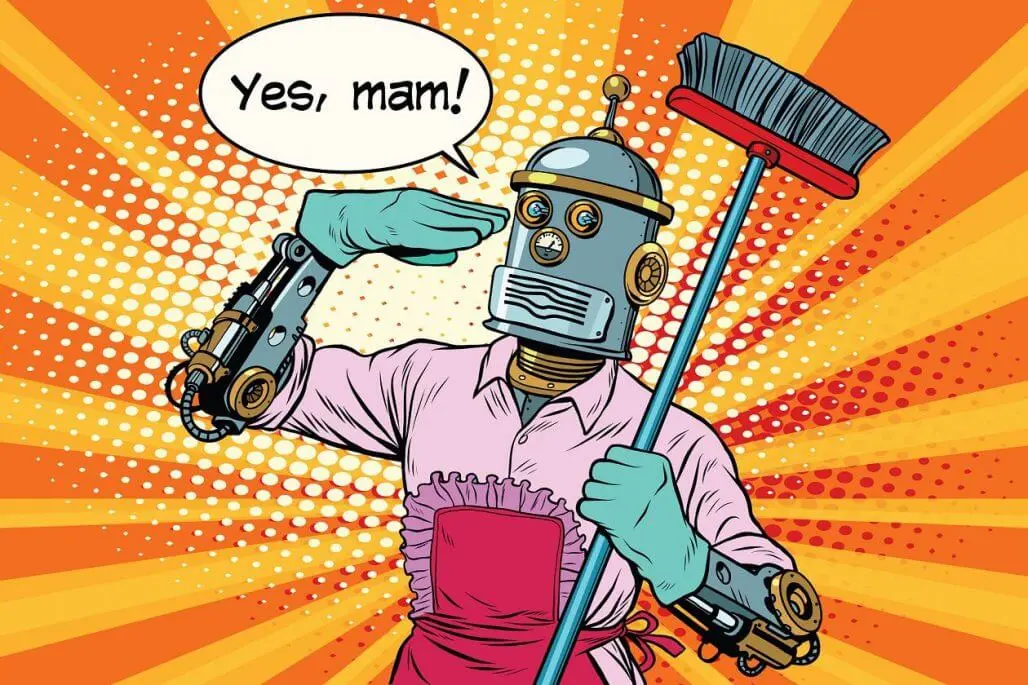 Newly developed model of iRobot Roomba can be controlled via WiFi on your phone. This home robot has advanced decision-making capabilities. Look, it can identify especially dirty notes and remember the most efficient routes and methods. Can you imagine, that home robot can plug itself into its charging station? Then, after full charging, it continues cleaning.
What about window cleaners? Here we have an amazing Alfawise Magnetic. It works like a vacuum cleaner. While it has microfiber pads to clean glass and suction-like features to ensure it doesn't fall off.
Moving to lawnmowers, we would like to mention the Worx Landroid. Notably, the best part is that it is not as loud as a traditional one. Even more, this one also can return itself to its charging station.
If you think about the more advanced robot cleaner, you should consider Sharp Corporation's RX-V100 and Bosch Roxxter. Other key players in this home cleaning robot segment include Dyson, Samsung, and Neato.
Pros of home cleaning robots
Scheduled cleaning.
Clean in the places where humans can't easily reach.
Spot cleaning.
Less noise.
Cons of home cleaning robots
You should keep vacuum-proof environment.
The robot can often get stuck.
The device often couldn't find it's way home because of the dead battery.
You should clean the bin frequently because it is small.
Human still needs to do some cleaning work. Many robots are not capable to clean all the corners and spots. Moreover, they can't clean stairs and curtains.
The robot vacuums are slower and run much longer.
Robot cleaners are still expensive.
Indeed, cleaning robots sounds like a miracle for many housekeepers. Yet, automation can also have limitations and disadvantages. So, before you decide to make these home robots a part of your life you should carefully weigh all the pros and cons.
Also, check out this post about robotic kitchen, to know about robot chefs and other smart kitchen appliances.
2. Entertainment robots
Use cases of entertainment robots
While cleaning robots are made to help us in our daily work, there are other robots that were created to entertain us and maybe make happier. Actually, these home robots are especially useful when you have children, but don't have enough time to dedicate them. So, you always need someone to play with your child, entertain and help learn something.
Here is an interesting fact. According to Market Research Future's recent report on Entertainment Robots, the value of the sector will reach USD 20 Billion by 2023.
Be sure, you are going to love the examples of the entertainment robots.
Entertainment robot products
This 9.5 inches tall robot Cue has three types of personality. Accordingly, you can choose the personality that is right for you. Just imagine, you interact with Cue through text messages and get respond with jokes or even memes.
The interesting thing about this robot is, that it is programmable. You can use block-based programming or Javascript. Notably, this means that the robot gives an opportunity for the kids to learn to code in a fun and simple way.
You probably remember hoverboard and its balancing capabilities. Now, let's look at miniPRO. Actually, this one is more advanced and safe, so anyone can use it without difficulties. It is hands-free and can even be controlled via smartphone. Though it is expensive for most people, it is still cool and fun to have and use after a long and busy working day.
Here is a big surprise for Star Wars fans. Stormtrooper Robot is an ideal entertainment robot for you. Notably, the home robot recognizes commands, monitors the home and use facial recognition. But here is one thing. For downloading the mobile app, you need a device running iOS 11. Then you connect via WiFi or use the robot's internal modem. Now, you can choose from three modes: Sentry, Mission, and Training.
If you admire Amazon Alexa then consider Lynx. This humanoid robot has a security camera that detects movements when you are not at home. Then, sends the footage to your smartphone. Surprisingly, it can even teach you yoga and show other exercises. Yes, this is a really cool and fan robot.
By the way, there are entertaining robots that replace our pets. For example, Cozmo is a robot dog. Indeed, it will always be a good companion for your kid. Moreover, its eyes act as a camera, and it can teach coding to your kid and play interesting games.
Pros of entertainment robots
Keeps people company and entertain.
Good for relaxing after a long and busy working day.
Help parents to entertain and look after their kids, teach useful things.
Replaces pets. More safe and efficient.
A large variety of models.
Can also be used for video surveillance.
Cons of entertainment robots
These home robots still don't have many advanced functionalities compared to their price.
Easy to get broken. Especially when we assume that they are intended to be used by kids.
Can be hard to control.
3. Domestic security and surveillance robots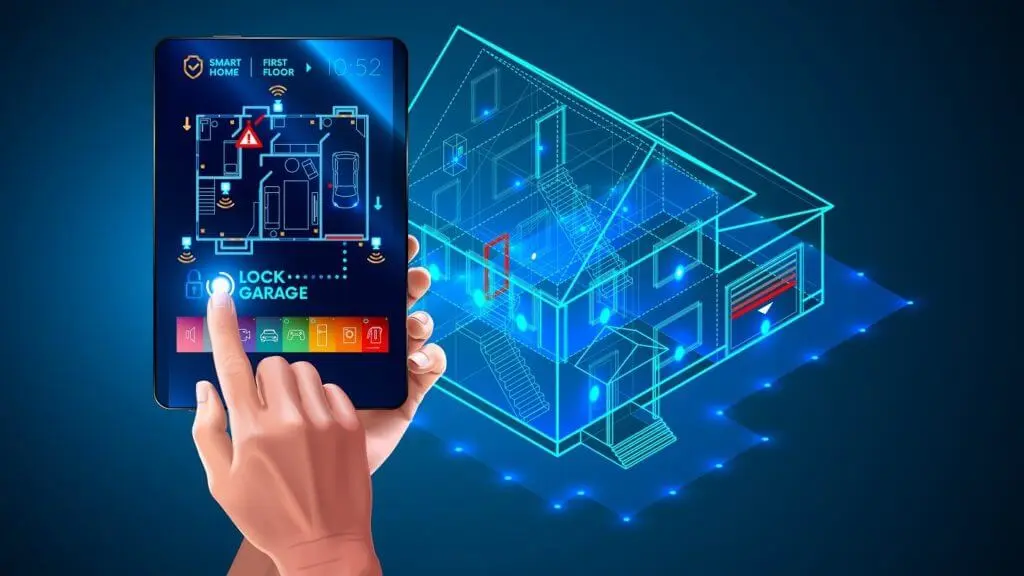 Use cases of domestic security robots
In fact, almost any home robot has cameras and home monitoring function. There is no doubt that video surveillance is an effective way of home monitoring.
In particular, a video surveillance system helps to get safety information and alarms on your computer, smartphone or tablet. So, now you can take appropriate actions in case of an emergency.
The fact is that video surveillance is a growing market. In 2015, the security technology and services market generated about 75.6 billion U.S. dollars in revenue worldwide, according to Statista.
Here are some of the advanced video surveillance robots.
Domestic security robot products
The Appbot Riley 2.0. is the robotic security guard for your home. This home robot has night vision camera and motion detectors. Even more, it captures a complete view of your home by walking around the home. And, in case of suspicious activity, it sends alerts to your phone.
Another good product is Flare by a Berlin-based BuddyGuard startup. It is capable of recognizing faces and detecting suspicious sounds. And if something goes wrong you will definitely receive an alert message from your home helper.
If you are interested in this product, then you have probably heard about AVATAR III. Notably, this security robot allows to monitor multiple areas at once and communicate remotely with subjects of interest.
Pros of domestic security robots
These home robots 24/7 with no coffee breaks, snacks, etc. It will keep the home's safety even after hours of operation and in bad weather.
They are more efficient thanks to video analytics and transparent integration with security systems.
Security robots have night vision capabilities and temperature, gas, or radioactivity sensors.
These robots replace humans in dangerous, boring and difficult situations.
Security robots can't be cheated or corrupted.
Cons of domestic security robots
Most people fear robots and are not able to trust them their home security. The main reason for this fear is, of course, privacy concerns that arise from hacking cases.
Robots have limited capabilities. Of course, robots can monitor the environment, detect unusual situations and send alarms to its owners. But, they can't react to that situations as humans can do for preventing crime or other dangerous situation.
Security robots may have many problems with connection, batteries, devices, systems.
Frankly, companies expand their services, develop additional features for their security robots. Indeed, they try to better respond to home security needs and requirements.
Conclusion
In summary, we can note that home robots become more and more popular. Therefore, we should recognize them and be able to conduct a right assessment.
We have discussed common types of home robots and introduced some disadvantages, So, if you decide to have one of them, you should conduct a careful assessment of all features, compare them to prices and then choose the best option for you.