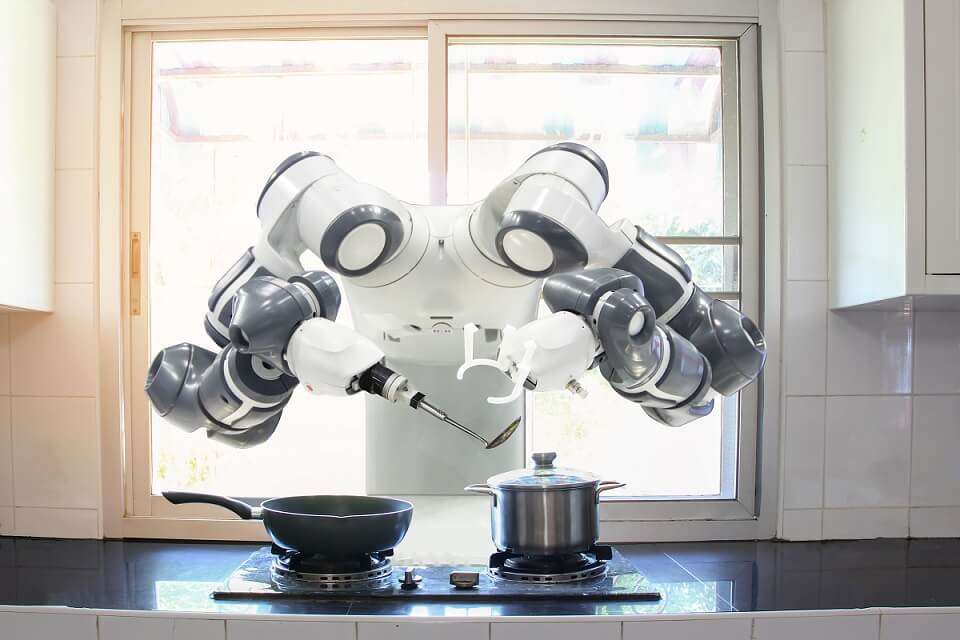 In the advanced days of technology, automated kitchens aren't anything that we only see in sci-fi movies. Many tech companies are getting close to achieving what they called a "robot chef." And by that time, you can have your restaurant-quality meal served right at home without having to go to a restaurant or even touch any of your cookware. With that being said, this article includes the most fundamental things you need to know about robot chefs and robotic kitchens.
Home cooking automation is coming sooner than you might think
Not very long ago, during the Hannover Messe International Robotics Show, a UK-based company named Moley Robotics has introduced what they called the Automated Kitchen – a robotic cooking space featuring a pair of automated arms to perform all necessary cooking tasks.
The robot, claimed by the company, is able to function just like a human chef and you will not have to do anything for the meal preparation. This totally surprised the audiences – those who have never seen cooking robots making food out of proportioned and processed ingredients.
In order to make this possible, the company has invested twelve months of hard-working and non-stop improvements with the collaboration with Shadow Robotics, DYSEGNO, Yachtline, Stanford University, Mark Cutkosky, and Sebastian Conran.
The plan is to create a super smart kitchen environment where you can operate using only the touchscreen of your smartphone or monitor. Hence, cooking delicious restaurant-quality dishes at home will no longer be an unbelievable task.
How does a robot chef work?
Their final product, the Moley Automated Kitchen, comes with a fully articulated mechanical arm with 20 motors, 24 joints and 129 sensors that can accurately recreate movements of human hands. Shadow Robotics has really outdone itself as its pair of arms were very well-constructed and able to execute complex tasks with great speed and sensitivity. Moreover, the kitchen table features the standard kitchen appliances, including an oven, stove, and many free counter space for the arms to work on.
But that's just enough to make a good pair of robotic arms! They were lucky to receive the support from the BBC Master Chef Tim Anderson whose cooking skills were, without a doubt, among the best. His cooking was recorded and monitored using advanced sensors, from which the company can recreate his exact actions, but only this time, with a pair of completely robotic arms.
Check this video to see how Moley Automated Kitchen works:
Moreover, Moley is currently working on some of their food apps which allow users to connect with their smartphones. The commercial version will feature over 2000 different recipes. The next time you feel hungry, you only need to download the recorded recipe online and let the robot chef do the work while you spend your time taking a short rest. In addition, people can record their own cooking recipes, save it for the next time, or share with other Automated Kitchen users.
With the awesome advancements in our recent technologies and the huge potentials from the automated kitchens market, there is undoubtedly many companies want to join the race. Not long ago, Sereneti Kitchen introduced their cooking robot "Cooki" at the 2015 Consumer Electronics Show. The device comes in smaller size and features a single robotic arm to prepare food from pre-portioned ingredients. Moreover, a Chinese restaurant has even created a noodle-slicer robot called Chef Cui which can completely replace human force in this sector. Another company is Momentum Machines who has debuted a cool machine which can produce 400 made-to-order hamburgers within just a single hour. There are many other companies eager to introduce their products as well.
So briefly, we can expect great robot chefs in the recent future.
But they still need human supports
Even though it's a promising technology, at our current stage, robotic kitchens still need human assistance in completing their tasks. It's clear that robots are, well, just robots; they are still not able to process complex thoughts and high-level of thinking like us.
This means that the robots in your kitchen aren't entirely a "chef." Even with the most advanced product like the Moley Automated Kitchen, it doesn't have any way to see and locate the ingredients or kitchen utensils once they're moved out of place. Moreover, it's still unable to perform complex and heavy tasks like chopping, slicing, trimming, and so on.
With other robot chefs, for most cases, users need to prepare the ingredients first before placing them in the cooking robots. Not to mention that using these robots will not shorten the cooking time compared to you cooking yourself.
And they won't be cheap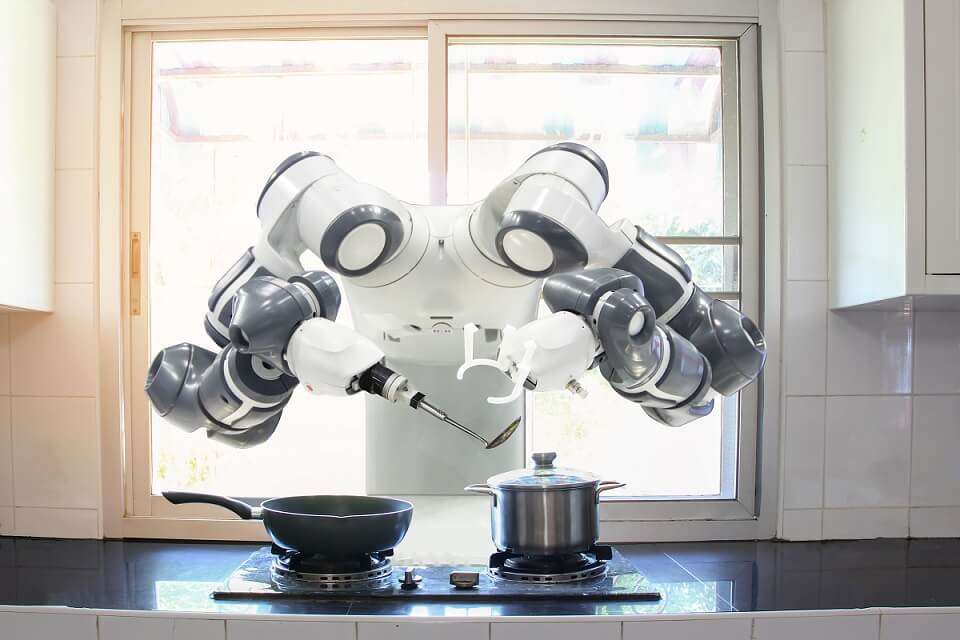 Although the product is hoped to hit the shelves very soon as Moley expect their high consumer grade product being released this year. You'll probably get shocked by the price robot chefs are going to offer, which probably ranges from $14,000 to $16,000. Not very excited right?
But don't forget that robotic kitchen is still a new technology. The fact that the company and their collaborators have put so much effort in creating robot chefs might boost their price up, especially in case of a premium-customer-targeted product like this. So, unless you have money to spend, it is still better to stick with your old-fashioned cooking kitchen.
Will robotic chef replace human?
Will robotic chefs have any effect on the current job market in the cuisine industry? The short answer, YES, but it will take time. And until then, most cookers will not have to worry about machines taking all their jobs. There are many things that robot chefs aren't able to do at the moment, and it would take forever for the machines to reach a level of finest as human.
Not to mention that only human is capable of making stuff with our creativity, while everything a robot can do is just mimics. So, unless you're a really bad cook who can even improvise and create foods using your pallets and cooking skills, there is nothing to worry about these robot chefs.
In fact, it's even a good new since good human chefs will have more time creating delicious recipes instead of wasting their energy in a crowded kitchen every day.
Top robotic kitchens to look for
As you've seen, Moley isn't alone in the competition of automated kitchens because many companies are placing their effort on this new market as well. The following is top robot chefs (aside from Moley Automated Kitchen, of course) that can change your kitchen completely. Also, you can check out this post for recommendation of kitchen smart gadgets.
1. IKEA Concept Kitchen 2025
Despite being still a concept, the IKEA Kitchen 2025 is promised to be an intriguing product that if being released, will completely change the way we used to cook.
A dining table comes with observatory smart lights and sensors to help identify every object placing on it. If there are foods, you'll receive information about their quality and how to combine them in order to make tasty dishes.
On top of that, a smart kitchen will do the cook for you. A "casual technology" shelving features wooden cabins which contain hidden sensors and cooling technology. Moreover, three counter-level shelves and terracotta pots will help you keep your foods cool and fresh all day long.
2. SAMSUNG Cooktop
It's a smart cooktop which has various cooking features and a hassle-free control system. The SAMSUNG Cooktop comes with an ultimate magnetic knob, allowing you to manage the cooking elements of your kitchen with ease. Just place it on any of the controls, and you'll be able to adjust their levels, switching between features, etc. with ease. On top of that, you can simply tap on the surface to adjust the power levels and cooking modes.
3. Whirlpool Cooktop
How about a cooktop with a touchscreen? Sounds impossible? Wait until you see what does the well-known German brand Bauknecht has to offer with this product. The Whirlpool Cooktop comes with a fully inductive surface, allowing you to browse the Internet while cooking right on the surface of the cooktop. Besides, thanks to the induction cooking technology, which heats the pot using magnetic power, you will never have to worry about burning.
Final Words
While the robot chef technology is a promising one, we can't expect them to work just like human chefs. It would take years and years of developments to reach that level. But until then, having an automated cooker in your home to server whatever you order on the menu is extremely tempting, especially when you won't have to waste your time in the kitchen anymore.
Let's us know what you think about robotic kitchen and its near future by leaving your comment below. Thank you for reading, and we'll see you in our future posts!