As an Amazon Associate, we earn from qualifying purchases. This means that if a reader clicks on a link or an image of the product, we may receive a commission. There is no additional cost to you — it helps pay for hosting and server costs. And it does not affect the quality of the content, as we always recommend our readers the best sources.
In the advanced days of technology, automated kitchens aren't anything that we only see in sci-fi movies. Many tech companies are getting close to achieving what they called a "robot chef." (or cooking robot). And by that time, you can have your restaurant-quality meal served right at home without having to go to a restaurant or even touch any of your cookware. With that being said, this article includes the most fundamental things you need to know about robot chefs and robotic kitchens.
Home cooking automation is coming sooner than you might think
Not very long ago, during the Hannover Messe International Robotics Show, a UK-based company named Moley Robotics has introduced what they called the Automated Kitchen – a robotic cooking space featuring a pair of automated arms to perform all necessary cooking tasks.
The robot, claimed by the company, is able to function just like a human chef and you will not have to do anything for the meal preparation. This totally surprised the audiences – those who have never seen cooking robots making food out of proportioned and processed ingredients.
In order to make this possible, the company has invested twelve months of hard-working and non-stop improvements with the collaboration with Shadow Robotics, DYSEGNO, Yachtline, Stanford University, Mark Cutkosky, and Sebastian Conran.
The plan is to create a super smart kitchen environment where you can operate using only the touchscreen of your smartphone or monitor. Hence, cooking delicious restaurant-quality dishes at home will no longer be an unbelievable task.
How does a cooking robot (robot chef) work?
1. The Moley Automated Kitchen
Their final product, the Moley Automated Kitchen, comes with a fully articulated mechanical arm with 20 motors, 24 joints and 129 sensors that can accurately recreate movements of human hands.
Shadow Robotics has really outdone itself as its pair of arms were very well-constructed and able to execute complex tasks with great speed and sensitivity. Moreover, the kitchen table features the standard kitchen appliances, including an oven, stove, and many free counter space for the arms to work on.
But that's just enough to make a good pair of robotic arms! They were lucky to receive the support from the BBC Master Chef Tim Anderson whose cooking skills were, without a doubt, among the best. His cooking was recorded and monitored using advanced sensors, from which the company can recreate his exact actions, but only this time, with a pair of completely robotic arms.
Check this video to see how Moley Automated Kitchen works:
Moreover, Moley is currently working on some of their food apps which allow users to connect with their smartphones. The commercial version will feature over 2000 different recipes. The next time you feel hungry, you only need to download the recorded recipe online and let the robot chef do the work while you spend your time taking a short rest. In addition, people can record their own cooking recipes, save it for the next time, or share with other Automated Kitchen users.
2. Sereneti Kitchen's Cooki
With the awesome advancements in our recent technologies and the huge potentials from the automated kitchens market, there is undoubtedly many companies want to join the race.
Not long ago, Sereneti Kitchen introduced their cooking robot "Cooki" at the 2015 Consumer Electronics Show. The device comes in smaller size and features a single robotic arm to prepare food from pre-portioned ingredients.
3. RoboBurgerBoy
Another company is Momentum Machines, which has debuted a cool machine that can produce 400 made-to-order hamburgers within just a single hour. Indeed, you read that right. A burger of a superior kind served simply out of the oven.
Toasting bread, making the meat ready, cutting the vegetables, placing the proper amounts of every ingredient; it is even capable of packaging them without the requirement for any human assistance. Stunning! The RoboBurgerBoy does everything.
This real-life FLDSMDFR (Flint Lockwood Diatonic Super Mutating Dynamic Food Replicator) from the film 'Cloudy with a Chance of Meatballs') has a range of tubes which holds every last one of the ingredients of a whole burger.
4. The Burrito Box
Along this equivalent line, we cannot overlook the Burrito Box, a vending device for use by those who go through a service station from Santa Monica (California). This machine apportions five different assortments of yummy burritos.
What makes it stand out from other vending machines is most likely the preparation, since it makes the burrito when the purchaser presses the button. The meat is steamed by making use of a trademark mechanism, which implies that the product comes out delicious and is genuinely different from reheated dishes.
Similar to the RoboBurgerBoy, this machine's developers say that they utilize quality items: organic vegetable products, fresh meat, etc. And all in only one minute and at a price that consumers can afford!
5. Robotic restaurants
And, to be sure, in China and Japan, advanced technologies have been changing restaurants. They are bidding farewell to human beings and welcoming automated precision. This melding of technology and food has helped reduce eatery costs, which have taken the place of a big part of their employees with smart devices responsible for preparing and adding the last touches to the oriental dishes.
For instance, a Chinese restaurant has even created a noodle-slicer robot called Chef Cui, which can completely replace human force in this sector.
Programmed excellently, this robot cook can do a fantastic job of slicing noodles, a food that is sought after in Asian nations. Chef Cui is capable of completing two things: slicing and emptying the noodles into a bowl of water, and it additionally has hued lights.
That is not all; China opened a restaurant with up to twenty robots as waitresses and waiters. The restaurant has automated machines ready to cook Chinese dumplings, prepare noodles, and fry vegetables; they can even excel at delivering the food orders, carrying the beverage and food menu, and greeting guests, in addition to other things. Genuine magic!
Advantages of automated cooking robots
Again, by automated cooking, we mean the way toward leveraging robots, intended for preparing food with precision while guaranteeing the possibly highest degree of quality apart from hygiene. Here are a couple of the countless perks of these robots:
1. Time saver
The cooking robots could spare you a mess of time.
Per the studies, cooking is among the most time-consuming tasks. Averagely, a homemaker spends up to 253 minutes out of each week in the kitchen preparing dishes. An expert culinary specialist invests considerably more time than that.
These robots would enable you to spare that time and pay more attention to other vital activities.
2. Consistency
Consistency is considered one of the most inadequate aspects of the restaurant and home cooking. Nonetheless, with these machines, each dish that is readied tastes 'precisely' the same since the robot sticks to the same algorithm as well as the identical sequence of steps each time. They are correctly programmed to adhere to the given directions.
3. Safety
Over 300,000 individuals get injured in kitchen-associated mishaps each year. With the utilization of automated robots, such a disappointing number could tumble down to zero.
These machines can work efficiently in situations that are unsafe for humans. They help wipe out the probability of injuries. It is safe to state that "Cooking has been safer than ever."
4. Enhanced hygiene
Hygiene is among the top priorities of people with regards to food. To guarantee consistent hygienic meals, automated robots are a choice worth accounting for.
With these cooking robots, it would be a lot more straightforward to guarantee and actualize hygiene procedures as compared to home cooking. If you are among those who have witnessed "behind the scenes" of an eatery's kitchen, you will, without a doubt, agree.
5. Swift process
A robotized procedure is, in every case, faster; these machines can prepare food in a brief timeframe when contrasted with humans. As you know, humans have a higher vulnerability to fatigue. Meanwhile, the robots are constructed to be consistent, and they will not humanly go through emotions – for example, sickness or tiredness.
6. Reliability
Automated cooking robots and robotic kitchens will not be a danger to you because they just do what they are programmed to carry out.
In contrast to chefs and maids, there are zero possibilities that these machines could put anything in the wrong place and lose it. It is improbable on Earth that they could cause distress or harm you.
They go by a fixed pre-set process, and accordingly, you can depend on them. There will not be human errors any longer.
7. Personalization
Personalization is among the most significant motivations to go for cooking robots. In this day and age, the "one size fits all" approach is not anymore viable.
The health problems which come with consuming food are enormous. One of the most typical examples is allergies.
Mass food makers cannot think about the various needs of people with sensitivities because of their standard production strategies. A few makers may disregard allergen information, regarding it as being excessively insignificant.
8. Boosted corporate dining quality and cost-efficiency
Technological advance has allowed for more brilliant corporate health solutions. Whatever your business size, in robot kitchens, robots deliver fresh, excellent dishes live.
More specifically, there are unlimited delicious bowl choices, say, minced beef, pasta, and low carb. Robots cater to your need and want about nutritional information for every meal.
Better yet, everything is as simple to set up as hitting a button. Then dishes will be served quickly. This cutting-edge cooking concept likewise enables the best quality at affordable prices. Companies can subsidize as mục as 100% of all the meals. In other words, the solution is cost-efficient and accessible 24/7.
Hygiene is a plus point. You will have the cooking exhausted air free of residues up to 99.9%. With the advanced air circulation system, the ambient kitchen air can become purified again. Every ingredient tends to get stored in refrigerated silos cleaned every day as well.
A robot that cooks, but they still need human supports
Even though it's a promising technology, at our current stage, robotic kitchens still need human assistance in completing their tasks. It's clear that robots are, well, just robots; they are still not able to process complex thoughts and high-level of thinking like us.
This means that the robots in your kitchen aren't entirely a "chef." Even with the most advanced product like the Moley Automated Kitchen, it doesn't have any way to see and locate the ingredients or kitchen utensils once they're moved out of place. Moreover, it's still unable to perform complex and heavy tasks like chopping, slicing, trimming, and so on.
With other robot chefs, for most cases, users need to prepare the ingredients first before placing them in the cooking robots. Not to mention that using these robots will not shorten the cooking time compared to you cooking yourself.
Cooking robots won't be cheap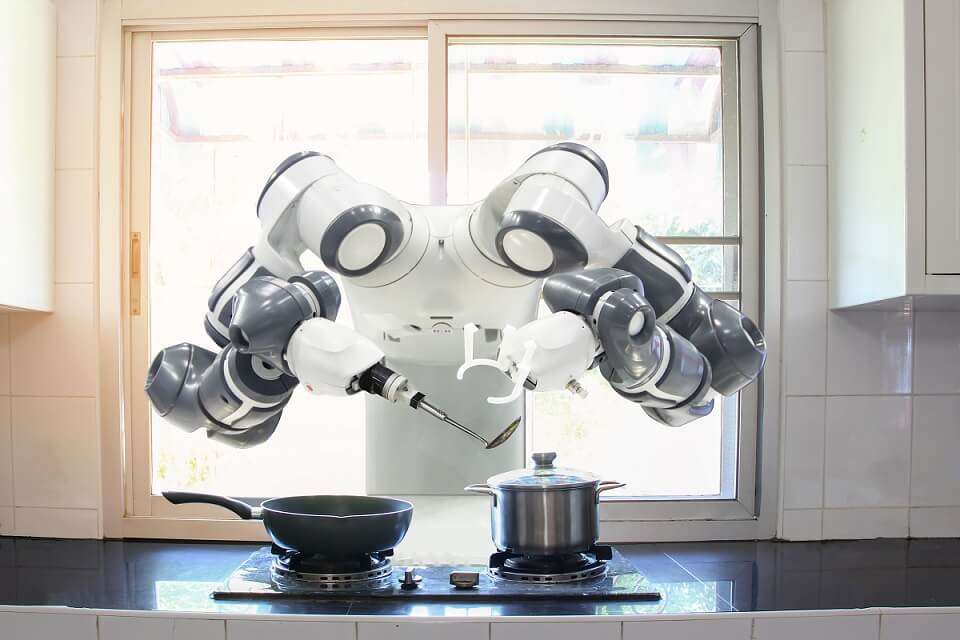 Although the product is hoped to hit the shelves very soon as Moley expect their high consumer grade product being released this year. You'll probably get shocked by the price robot chefs are going to offer, which probably ranges from $14,000 to $16,000. Not very excited right?
But don't forget that robotic kitchen is still a new technology. The fact that the company and their collaborators have put so much effort in creating robot chefs might boost their price up, especially in case of a premium-customer-targeted product like this. So, unless you have money to spend, it is still better to stick with your old-fashioned cooking kitchen.
Automate for a more promising time to come
As per a Pew Survey in 2014, 1,900 technology specialists concurred that robots, including robot chef solutions, will be a regular part of your life by 2025.
With robotization set to invade numerous industries, we should begin planning for the potential aftermath. Sectors such as home upkeep, customer support, transport and logistics, and health care will all be influenced. Specialists are torn on the real effect this may have on the employment market.
For the 52% who felt perky about it, the rationale was that we have been shedding "conventional" employment with machines for quite a long time. In the mid-twentieth century, the vast majority were indeed factory workers and farmers. The tremendous innovative advances we have witnessed in the course of the last century has seen machines somehow excel over human resources in boosting profitability and render human contributions to about two percent of the workforce these days.
As you probably are aware, this has not resulted in massed joblessness in the populace. Truth be told, there has been an immense proliferation of new openings that could not have been longed for by our great grandparents. Massed technological adoption in the industries has incredibly enhanced our quality of life. Is it possible that full automation takes this pattern to a higher level? According to general beliefs, it is more than likely!
Will cooking robots replace human?
Will robotic chefs have any effect on the current job market in the cuisine industry? The short answer, YES, but it will take time. And until then, most cookers will not have to worry about machines taking all their jobs. There are many things that robot chefs aren't able to do at the moment, and it would take forever for the machines to reach a level of finest as human.
Not to mention that only human is capable of making stuff with our creativity, while everything a robot can do is just mimics. So, unless you're a really bad cook who can even improvise and create foods using your pallets and cooking skills, there is nothing to worry about these robot chefs.
In fact, it's even a good new since good human chefs will have more time creating delicious recipes instead of wasting their energy in a crowded kitchen every day.
Top robotic kitchens to look for
As you've seen, Moley isn't alone in the competition of automated kitchens because many companies are placing their effort on this new market as well. The following is top robot chefs (aside from Moley Automated Kitchen, of course) that can change your kitchen completely.
Also, you can check out this post for recommendation of kitchen smart gadgets.
1. IKEA Concept Kitchen 2025
Despite being still a concept, the IKEA Kitchen 2025 is promised to be an intriguing product that if being released, will completely change the way we used to cook.
A dining table comes with observatory smart lights and sensors to help identify every object placing on it. If there are foods, you'll receive information about their quality and how to combine them in order to make tasty dishes.
On top of that, a smart kitchen will do the cook for you. A "casual technology" shelving features wooden cabins which contain hidden sensors and cooling technology. Moreover, three counter-level shelves and terracotta pots will help you keep your foods cool and fresh all day long.
2. SAMSUNG Cooktop
It's a smart cooktop which has various cooking features and a hassle-free control system. The SAMSUNG Cooktop comes with an ultimate magnetic knob, allowing you to manage the cooking elements of your kitchen with ease. Just place it on any of the controls, and you'll be able to adjust their levels, switching between features, etc. with ease. On top of that, you can simply tap on the surface to adjust the power levels and cooking modes.
3. Whirlpool Cooktop
How about a cooktop with a touchscreen? Sounds impossible? Wait until you see what does the well-known German brand Bauknecht has to offer with this product. The Whirlpool Cooktop comes with a fully inductive surface, allowing you to browse the Internet while cooking right on the surface of the cooktop. Besides, thanks to the induction cooking technology, which heats the pot using magnetic power, you will never have to worry about burning.
Final Words
While the robot chef technology is a promising one, we can't expect them to work just like human chefs. It would take years and years of developments to reach that level. But until then, having an automated cooker in your home to server whatever you order on the menu is extremely tempting, especially when you won't have to waste your time in the kitchen anymore.
Let us know what you think about robotic kitchen and its near future by leaving your comment below. Thank you for reading, and we'll see you in our future posts!