As an Amazon Associate, we earn from qualifying purchases. This means that if a reader clicks on a link or an image of the product, we may receive a commission. There is no additional cost to you — it helps pay for hosting and server costs. And it does not affect the quality of the content, as we always recommend our readers the best sources.
There is no doubt in saying that technology is getting advanced day by day. Now many new gadgets are available to make our daily life easier and one of the most useful among them is robot vacuum cleaners.
In the past few years, robot vacuums have gained a lot of popularity, all credit goes to their advantages. However, there are many robot vacuums available but when it comes the best, then Roomba 890 and Shark ION Robot 750 are two of the most popular robot vacuums currently trending in the market.
Although both the robot vacuums come with amazing features but what if you have to choose one? So if you are confused about which one you should choose, then this Roomba VS Shark ION Robot comparison guide will be helpful for you.
In this article, you will get all the main information regarding both the robot vacuum. After reading this article, you will know everything about both and it will be easier for you to choose the best one. So before jumping into the features and other important things, you must know all the basic information regarding them.
iRobot Roomba 890 Robot Vacuum
Roomba 890 is equipped with excellent features. It has a 3-stage cleaning system, which lifts, loosed, and sucks dirt, dust and premium hair.
This robot vacuum comes has a capacity of 0.62L and it has amazing pick-up performance. To give effective cleaning, dual multi-surface rubber brushes are given, which flex and adjust instantly to stay in contact with the surface properly.
It features dirt detection sensors that give in signal to work better on high traffic areas. This robot vacuum works with Google Assistant and Alexa and you can download the iRobot home app to use it from anywhere you want.
Shark ION Robot 750 Vacuum
This Shark ION Robot 750 is powered by Auto-Sense Navigation, which helps it examine the areas of your house better and also keeps the robot vacuum away from ledges.
You can connect it with Alexa or Google Assistant and control it through your voice commands. If you need more functionality, then you should use the Shark Clean App to access it from anywhere.
It features dual side brushes that clean the dust effectively. Apart from this, this robot comes with a lithium-ion battery, which provides enough charge to complete the cleaning.
So this was some basic information regarding both robot vacuums, now it's time to talk about some of the major differences between both.
Differences Between Roomba 890 and Shark ION Robot 750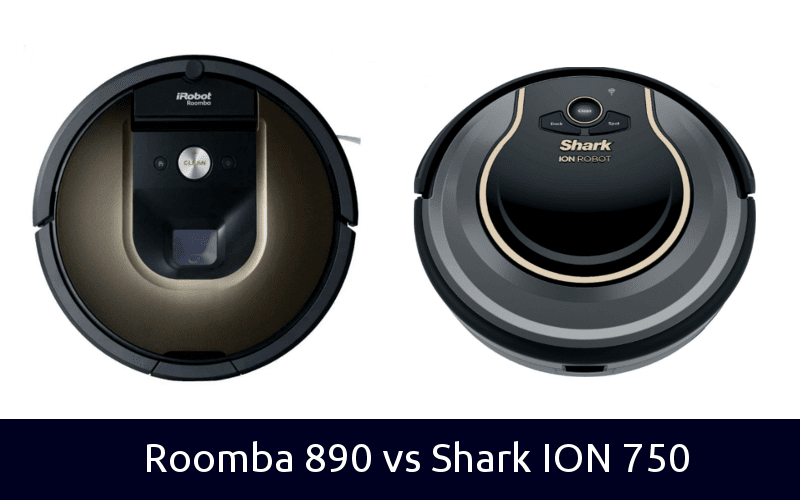 The Roomba 890 features a full bin indicator whereas the Shark ION Robot 750 has two sides brushes
The Roomba 890 features an AeroForce High-Efficiency Filter whereas a HEPA filter is given in the Shark ION Robot 750
The Roomba 890 functions with an iAdapt Navigation Technology whereas the Shark ION Robot 750 functions with a Smart Sensor System
Now all the fundamental information is done, let's compare both Roomba vs Shark Ion in terms of:
Vacuum Technology
The cleaning process is the same in both vacuums but if you talk about technology, then both use different technology.
The Aeroforce technology given in the Roomba 890 is very efficient in collecting the dirt, hair, and dust. This technology uses the side brush and debris extractor, which helps the suction to clean everything better. As compared to previous models from Roomba, this one is more powerful. From small dust particles to bigger microns, it can easily collect everything.
Coming to the Shark Ion Robot 750, it features an 11-inch wide brush roll, which collects all the dirt particles and to make it more efficient, side brushes are also given. These side brushes are very useful in the corners and the edges. In this vacuum, HEPA filters are used that can collect particles that size 0.3 microns.
At last, if you compare both of them, then you will find that the Roomba 890 is more efficient in cleaning high pile carpets in comparison to the Shark Ion Robot 750.
Price And Looks
The pricing of both vacuums is very different, Shark Ion Robot 750 is less expensive than the Roomba 890.
The design of both robot vacuum is similar but there are some minor things that make them different from each other. Both vacuum come in circular form but the size is different.
The height of Roomba 890 is 3.6 inches, which helps it clean the furniture's under part better. On the flip side, the Shark Ion Robot 750 is not as big as the Roomba and it takes more time in cleaning the house.
Though the design is the same but the color is different. The Shark Ion Robot 750 comes in silver-gray color and it has metallic accents but Roomba features a clean black and brown look.
There are three buttons placed on the top in Shark Ion Robot 750 whereas the Roomba only has a button at the center.
In short, if you are more inclined towards simplicity, then Roomba is the best for you. Otherwise, if the look is not your concern, then you can check the Shark Ion Robot 750.
Before buying a robot vacuum, it is very important to know about navigation technology.
Roomba 890 features optical and acoustic sensors that make the cleaning more effective. It helps the robot in finding dirtier areas and dodge the obstacles.
If you have stairs in your house, then these sensors will prevent the vacuum from falling off. Roomba 890 comes with iAdapt navigation that enables the vacuum to cover the entire area very easily. It also helps the vacuum find out the type of surface it is standing.
This sensor allows it to adjust the cleaning according to the surface. Shark Ion Robot 750 is also not behind in terms of navigation technology. It also has sensors that help the vacuum to identify the surface type and help in finding the way and avoiding obstacles. The sensors also help in cleaning the dirtier parts and preventing it from falling off the stairs.
Battery
Batteries play a very major role in determining the efficiency of any robot vacuum. Luckily, they both have lithium-ion batteries and on a single charge, they can run up to one hour.
The best thing about lithium batteries is that they are long-lasting. Apart from this, they both do not have an automatic resume system so if the battery dies in between cleaning, then you will have to start it by yourself to continue the cleaning.
The main difference is that Roomba 890 only takes 2 hours to charge the batteries whereas the Shark Ion Robot 750 needs 3 hours.
One great thing about both robot cleaners is that they come with automatic battery charge capabilities. This means that if the battery gets low, they will automatically find a way to the charging dock.
Smart Features
Both Roomba 890 and Shark Ion Robot 750 come with good smart features. They both can be connected to Wi-Fi and you can control them with your mobile phone.
You just have to download their smart mobile applications, then you can control them with the help of your smartphone. They also provide you the feature to create a schedule as per your needs are requirements.
Apart from this, if you install the mobile application, then you will also get some exclusive tips to control the robot vacuum better and solve different problems.
Once you have connected your vacuum to the Wi-Fi, you will be able to control it from any place. If you want, then you can also connect your vacuum with Google Assistant and Alexa. By doing this, you will be able to control it with your voice. You can give easily give it commands and start or stop the cleaning.
Full Bin Indicator
The full bin indication is an important feature as it will let you know when the dustbin of your robot vacuum becomes full.
With this feature, you won't have to put your time in checking out whether the dustbin is full or not. This feature is only available in the Roomba 890 so if you are planning to buy the Shark Ion Robot 750, then you will have to check the dustbin from time to time.
Table Of Comparision
All the information is explained above but still if you want a brief summary of all the features, then this chart will help you get all the details.
In this chart, you will get all the main information that you should know about both Roomba 890 and Shark Ion Robot 750. So make sure to check out the table properly.
| | Shark Ion Robot 750 | Roomba 890 |
| --- | --- | --- |
| Shape | Round | Round |
| Dimensions | 12.6 x 12.6 x 2.6 | 13.9 x 13.9 x 3.6 |
| Weight | 5.5 | 8.4 |
| Wi-Fi Support | Yes | Yes |
| Navigation | Smart Sensor | iAdapt navigation |
| Scheduling | Yes | Yes |
| Spot clean | Yes | Yes |
| Battery Life | 60 | 60 |
| Charging time | 180 | 120 |
| Side brush | 2 | 1 |
| Auto recharge | Yes | Yes |
| Full bin indicator | No | Yes |
| Entire level cleaning | No | No |
| Type of Brush | Main brush roll | Debris extractor |
| Filter | HEPA | Aeroforce high efficiency filter |
| Control Panel | Yes | Yes |
| Navigation control | Botboundary Strips | Dual mode virtual wall barrier |
| Remote control | Yes | Yes |
| Battery (Lithium ion) | Yes | Yes |
| Supports Amazon Alexa | Yes | Yes |
| Supports Google Home | Yes | Yes |
| Price | Check Latest Price | Check Latest Price |
What You Will Get In The Box?
Here are all the things you will get with these robot vacuums.
The Roomba 890: With this robot vacuum, you will get an owner's guide, line cord, documentation package, dual-mode virtual wall barrier along with 2 AA batteries, extra filter, and home-based charging station.
The Shark ION Robot 750- With this robot vacuum, you will get a HEPA filter, a charging dock, 2 side brushes, Botboundary connectors (2), cleaning tool, Lithium-ion battery, and Botboundary strip (9 feet).
Which One You Should Buy?
So this was the comparison between the Roomba 890 and the Shark Ion Robot 750. It is pretty clear that the Roomba 890 is a bit superior to the Shark Ion Robot 750 in terms of functionality.
Now the main question arises is that which one you should buy.
Well, the simple is that it depends on your budget and requirements. For example, if you want a good quality robot vacuum at a budget-friendly cost then you can opt for the Shark Ion Robot 750. By choosing it, you will save some extra money but you will also have to compromise on some features like full bin indication.
For people who have many carpets in their homes, then you should put some extra money and buy Roomba 890. It comes with amazing features and will enhance the quality of your carpets.
Some Frequently Asked Questions
So after discussing everything about both robot vacuums, it's time to shed some light into the most frequently asked question regarding them.
Does Roomba Have The Auto Charging Feature?
Yes, Roomba 890 comes with an auto charging feature. Once the battery of the Roomba 890 becomes low, it automatically moves back to the charging dock to recharge the battery. With this, vacuum, you won't have to check the battery as it is fully automatic.
How Long Will Shark Take To Clean A Room?
It depends on the size of the room you want to clean. For example- if you have a regular-sized room, then it will take 2 to 3 hours to finish the cleaning perfectly.
Summary
It is very clear that both Roomba 890 and Shark ION Robot 750 are very useful gadgets and they will make your life easier. But if you compare both in terms of pricing, then Roomba is much expensive.
So if you a tight budget, then Shark ION Robot 750 is better for you. On the other hand, if your main priority is performance, then you should go with Roomba 890. It is slightly expensive but it is a good choice for people who have high-pile carpets.