As an Amazon Associate, we earn from qualifying purchases. This means that if a reader clicks on a link or an image of the product, we may receive a commission. There is no additional cost to you — it helps pay for hosting and server costs. And it does not affect the quality of the content, as we always recommend our readers the best sources.
Note: We have updated this article from last year, because we would want to show you the most up-to-date smart gadgets that you can have!
Are you eager to make your home smarter?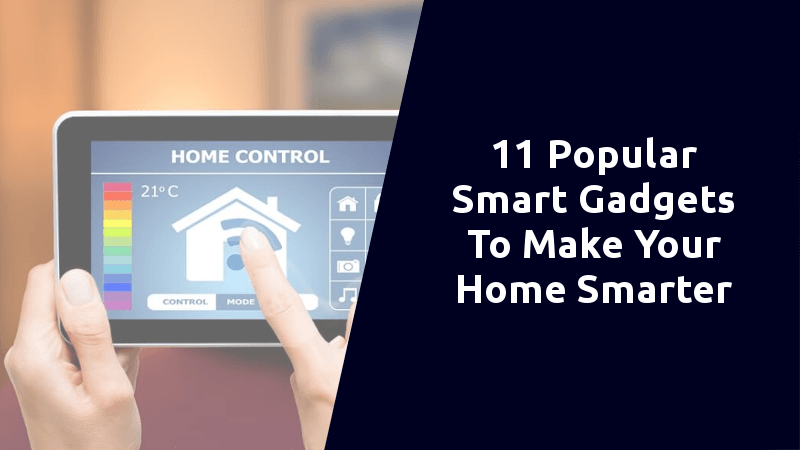 Despite still being in the early stages, smart home gadgets are getting more and more useful and intelligent. Techies once dreamt of an automatic house in which everything was "smart". Nowadays, it is a dream-come-true story when many artificially intelligent devices, able to be found at any store on Amazon, could make your home smarter.
Imagine that you could sit on your comfortable sofa, order your virtual assistant to make your coffee or to clean your house. And on a busy day at your office, you could still talk to your guests at home door. Then, after arriving home from an exhausting day, you walk in and the light is automatically on, your smartphone also automatically plays your favorite ballad, and so on.
All works above are now possible with following smart gadgets and we bet you'll love them all:
1. Amazon Echo (Alexa)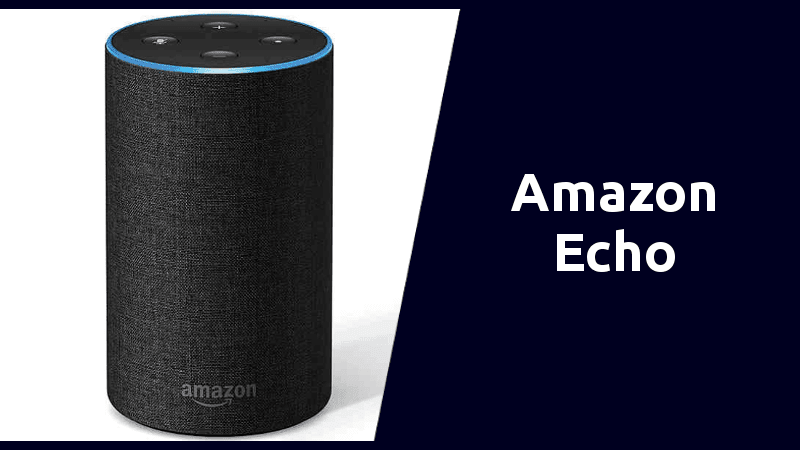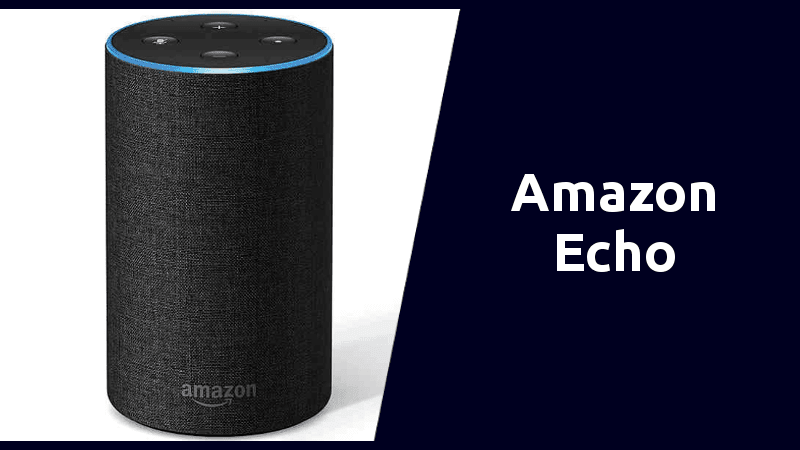 The Amazon Echo is a smart speaker with an integrated virtual assistant called "Alexa." You can use it to connect other smart gadgets (if available) in your house into a complete system.
At this point, the Amazon Echo will not just be an ordinary speaker, but you'll have a full-time home assistant that will answer to your command at any time, not to mention its excellent sound quality.
Since the first release of Ironman in 2008, many tech-worms had dreamt of an integrated virtual assistant like Tony Stark's Jarvis. And Amazon never disappointed you when releasing its smart speaker device "Amazon Echo" in 2014, which has been widely known for the name "Alexa". Just for your information, this name is inspired by electronic communication system in Star Trek series.
Alexa would be your own "Jarvis"! It takes your voice command and does some tasks for you, especially once you have connected it with other smart home devices. For example, if you connect Alexa with your smart phone, you can order it to:
Make a phone call,
Turn on the music, or
Do a web-search
If Alexa is connected to your smart coffee machine or smart vacuum, you can just stay on bed and ask it to brew your morning coffee or to vacuum your house. We also prefer to call Alexa as a virtual house-keeper and she works perfectly with other smart home gadgets.
Amazon is currently still developing a learning platform for Alexa and introducing her "new skills" to users via a mobile app, namely Alexa Skills Kit. In fact, Alexa wouldn't be very helpful if your house doesn't have many smart devices compatible with Alexa. Therefore, owning an Alexa, you will have the encouragement to buy other smart home appliances.
The only problem with this device is that it will not be so useful when there are not many smart devices in your home. Besides, if you're just looking for a simple voice-controlled speaker, there would be other products that come with a better price. Anyway, Amazon Echo has spread its reputation to over the world and obviously a reliable choice.
2. Google Home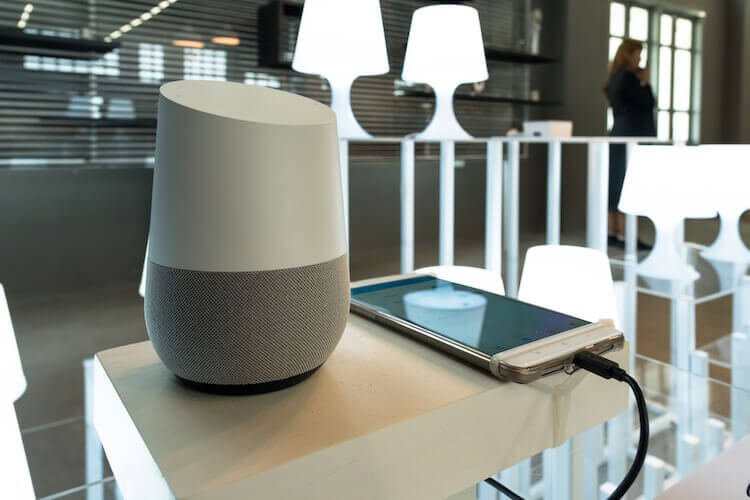 The 21st century is the time of artificial intelligence; not just Amazon, other tech-giants have all introduced their versions of virtual assistant like Apple with Siri or Microsoft with Cortana. Of course, Google wouldn't want to be left behind and Google Home was released in 2016.
Basically, Google Home is quite similar to Amazon's Alexa for all voice speaker functions and, maybe, a bit more comfortable with an enhancement of Google Assistant on your smartphone.
It was reported on Wall Street Journal that Google had even developed the personality for their Google Assistant with the help of writers from Pixar movies and The Onion newspaper. Although Alexa is a bit more well-known, many people still buy Google Home due to its premium look.
You can connect Google Home with your smartphone and appliances like Alexa. With Google Home or Google Home Mini, you can also get access to other Google's co-operated services like Netflix, Spotify, Google's appliances like Google Play Music, Youtube, Calendar, Google Keeps or hundreds of online newspapers, journals and radio channels including BBC, CNN, CNBC, iHeartRadio, etc. It's true that Google have made use of their enormous network to develop their products.
If you're familiar with Google Assistant on your Android devices, then we're pretty sure that you must be quite satisfied with it. It's better than Siri and definitely much better than Cortana in my opinion.
However, like the Amazon Echo, it would be quite useless if you don't have many smart devices for it to work with. But the Google Home offers some great features that the Amazon Echo cannot, such as performing multiple commands at once, searching results on your phone, playing YouTube videos, etc. That would be the reason why it is much more expensive than the Amazon Echo.
3. Nest Cam Outdoor Security Camera
In January 2014, Google acquired Nest brand name from its former owners – Tony Fadell and Matt Rogers. Five months later, Google Nest acquired Dropcam and released Nest Cam in the following year. Nest Cam Outdoor is, in fact, an improvement of its predecessor – Nest Cam Indoor for bearing the severe weather outside.
Although both value of this camera and its month subscription for video storage is quite expensive, many people are still eager to own one Nest Cam for their home security. The exceptional trait of this surveillance camera is its outstanding quality. Nest Cam Outdoor offers streaming 1080p videos with an extra-wide angle – 130 degrees and adequate audio.
Moreover, the Nest Cam Outdoor Security Camera is capable of recording and streaming 1080p videos with decent audio quality. Once you can connect it to your smartphones using Wi-Fi, you can interact with the person that's standing in front of the house even when you're not at home.
And, of course, as mentioned above, this outdoor version was born to be durable when exposed to different types of weather. That is the reason why its quality is confirmed by most of users.
Last but not least, the camera can be connected to Alexa like other smart home gadgets above for your better and smarter experience. All in all, it's a great security camera, but the biggest problem of it might be its high pricing and subscription fee for video storage.
4. Nest Protect Smoke and Carbon Monoxide Alarm
When you live in an apartment, fire prevention is necessary for your own safety. We would recommend you buy Google Nest's Smoke and Carbon Monoxide Alarm, again, because of its quality. This device is known for its more sounding name: Nest Protect.
Firstly, Nest Protect is durable, its sensor could use for 10 years; hence though the product's value is not small, it's still comparatively cheaper than other decent detectors for these long-lasting and multi-functional features.
Nest Protect gives the signals about your house's situation by color rings: blue for normal, yellow for early warning and red for alarming. The ring is withal an auto-light which is on when someone passes by, thanks to its motion sensor.
In case of fire and power shutdown, this light is necessary for you to find the emergency exit. When combined with Nest Thermostat, Nest Protect and Thermostat will help to cool down the heat, minimize the toxic carbon monoxide (CO) and send an alarm to your phone if anyone still gets stuck inside by its motion sensor.
Finally, Nest Protect is compatible with Alexa or Google Home which is quite useful for hand-free operation. It should be one of the life-saving items in your smart home collection.
See: the best of smart smoke detectors now.
5. Arlo VMS3130 Indoor/Outdoor Night Vision Security System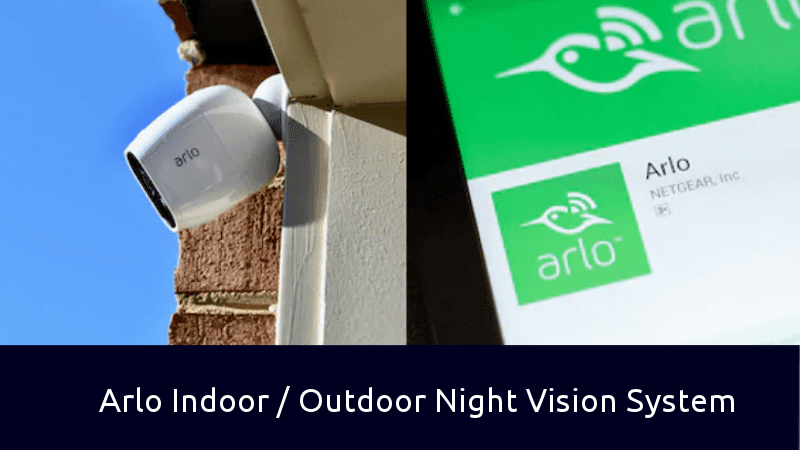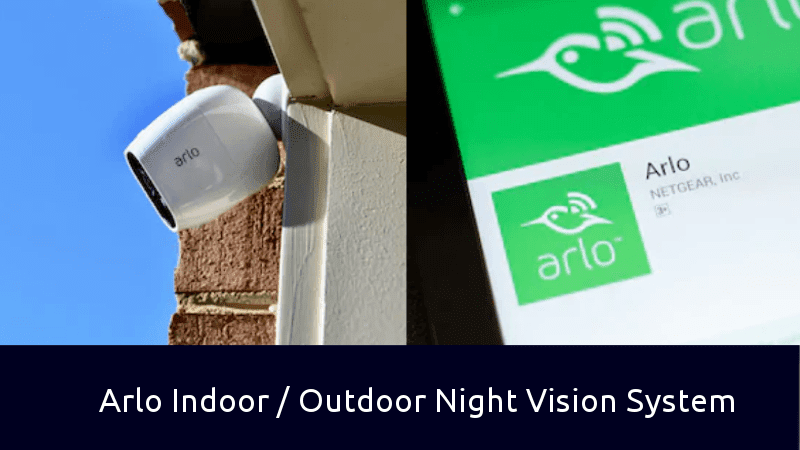 Arlo is a small and very easy-to-use security camera that can be placed inside or outside of your house. It's also cheaper compared to other products regarding monthly subscription for video storage.
If you are looking for a more affordable security camera for your smart home, then just consider about Arlo VMS3130. Arlo offers users two connection modes: wired or wireless. For the first one, you'll need to plug a power cable to your camera and let it run permanently. For the wireless one, which is also many users' favorite, you still need to charge it first before placing it to watching position. Of course, the downside of wireless mode is that the camera could run out of stored power.
Note that the camera will only record when it detects motion, which means it will consume less power. Although the image quality is quite good, the sensor sometimes fails to detect movement, so make sure you give it a clear vision.Consequently, you really should choose a good position to place it.
6. Ring Video Doorbell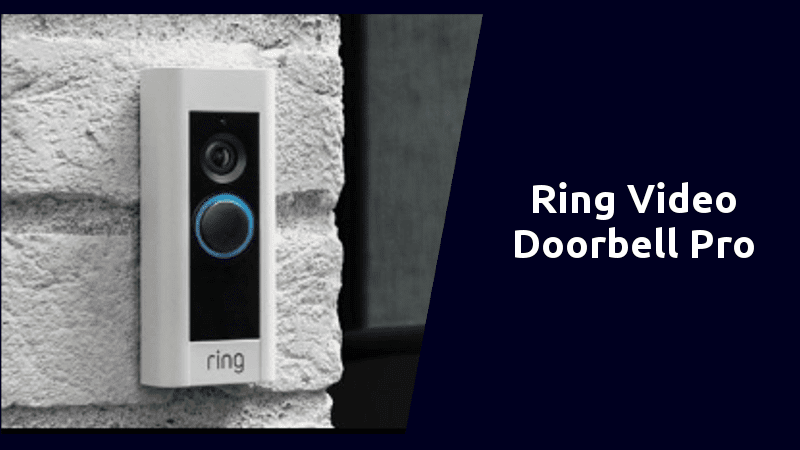 The Ring Video Doorbell is quite exactly how you imagine it would be based on its name. In particular, this smart doorbell allows you to have a two-sided conversation with the person standing outside of your door even when you're not at home. You can also add it to your Alexa assistant list to control the device with voice commands.
On top of that, the camera provides good quality of images and have a decent angle of viewing. So, whenever you feel like checking the front of your house, spending a few minutes on your smartphone or laptop with Ring Video Doorbell is a wise choice.
The only problem that might occur is a poor Internet connection, which might result in a bad-image quality.
7. Nest Learning Thermostat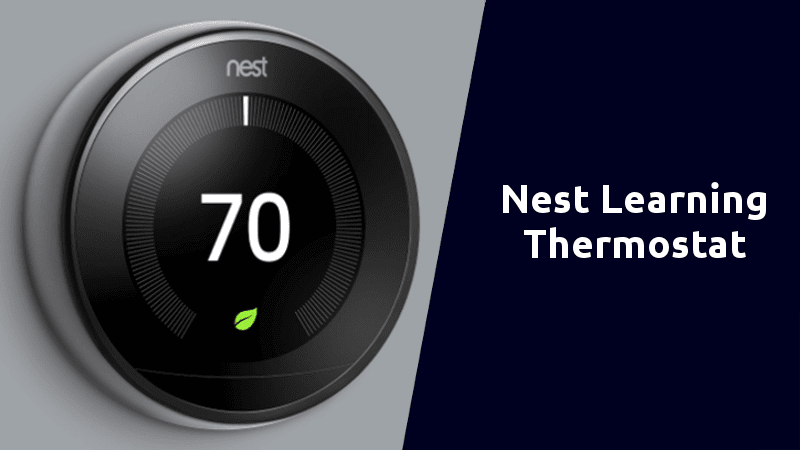 Yes, we have mentioned about Nest Thermostat above and here we would describe how useful it is in your smart home.
You probably have heard about this type of device before. It basically allows you to change the temperature in your house with just a few simple manipulations.
Nest Thermostat now can replace traditional heating and air conditioning systems. In general, it optimizes the temperature in your home for both your comfort and energy conservation. Indeed, based on its built-in sensor and your phone's location, this device could turn itself to energy saving mode when it realizes no one at home.
For regulating the temperature, this Nest Thermostat guy runs based on Learning Machine algorithms. At first, you will need to "teach" him about your preferable temperature by manual adjustment for the first few weeks. Later, the device will regulate the temperature automatically according to daytime and your habit data which he learns before. It might sound unbelievable, but it is true!
This smart thermostat could also be connected to your phone, Alexa or Google Home and even the smart light bulb to provide you the light for orientation in case of emergency. Nest Thermostat is only fully available in Northern America and some European countries; however, Nest Lab is cooperating with energy companies to expand this device usage.
8. Philips Hue Ambiance Smart Light Bulbs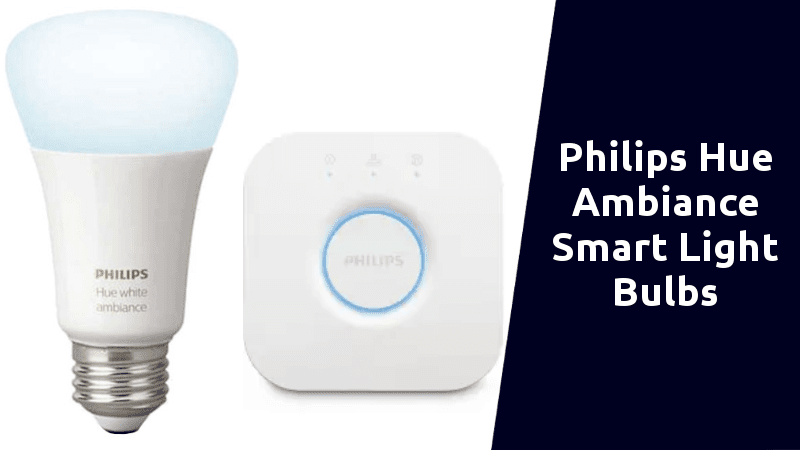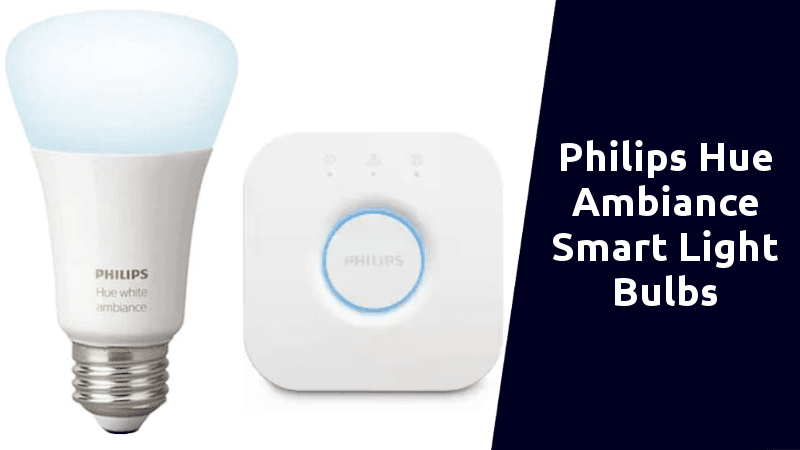 Your home will come to the next level of "intelligence" if you equip it with a smart lightning system and Phillips is undeniable to be the pioneer producer for this smart device.
Those light bulbs could be connected to your smartphone by Bluetooth or Zigbee – a wireless connection protocol. Phillips has developed an App for manual instruction and control over your smart bulbs. It is also easy and convenient for you to give them the voice command via Alexa or Google Assistance. The bulb itself is durable for around 25000 hours of use. Producer also gives a 2-year warranty program for your lightning system.
Now we will show you how smart it is. Firstly, most of their smart bulbs have the timer system which allows you to set the time for lightning and wake-up alarm. Also, Phillips Hue smart light has motion sensor to detect movements and automatically turns itself on when people walk by. Secondly, its brightness could be adjustable from dim to glowing. Finally, you can control the light system even when you are not at home.
The only disadvantage of their Apps is that it only allows you to manage maximum 9 bulbs. If you want to use more, you need to buy Hue Bridge separately to control up to 50 bulbs inside your house.
9. Rachio Smart Sprinkler Controller
You have a beautiful lawn or garden and you are willing to take a good care of it. Then, let's go for Rachio Smart Sprinkler Controller – a solution for worry-free watering. Of course, you must have a sprinkler system first before using this controller. Although it could be a bit complicated to set up a Rachio controller, you still definitely can do it yourself by looking at their manual instruction.
Like all Sprinkler controller, with this Rachio one, you can set time and water amount for your garden in the first few days. However, the device later will learn your schedule and do it automatically. Or even smarter, Rachio smart controller can delay the watering schedule if its weather forecast data says it could be rainy. Well, for lazy gardeners, this device is truly worth your money.
10. Kasa Smart Wi-Fi Plug Mini by TP-Link
Kasa is a smart plug device coming from a well-known brand name, TP-Link; hence, it is welcomed by most of this brand's loyal users. Kasa Smart wi-fi plug is simply a remote controller for your electronic devices. Now from anywhere and at any time, you can switch on and off your lights, television or oven using this controller.
All you need to do is to plug in this device to connect it with power outlet system and manage your electronic devices from far-flung corner via your smartphone. Kasa Smart Plug is also compatible with Alexa for free-hand usage. It is a helpful device for saving energy or for controlling the safety of electricity in your house, especially if you have kids at home.
11. KOHLER Moxie Showerhead and Wireless Speaker
We have gone through smart temperature control, security system and smart lightning. So how about a smart bathroom? Yes, Kohler has developed their smart shower head which is called Kohler Moxie to bring this innovative experience to your bathroom.
Kohler smart shower spray could be connected to your smartphone via wireless Bluetooth or you could give command by its own attached speaker. However, this speaker can only be used out of the shower space which is a bit inconvenient.
Summary: top 11 useful trendy smart home gadgets