As an Amazon Associate, we earn from qualifying purchases. This means that if a reader clicks on a link or an image of the product, we may receive a commission. There is no additional cost to you — it helps pay for hosting and server costs. And it does not affect the quality of the content, as we always recommend our readers the best sources.
Today's tech-innovations have brought a lot of ease and comfort to almost all of us. But normal people would never know how meaningful these advanced technologies is to the disabled. Indeed, the 21st century's smart home products have changed the situation of thousands of handicapped people, giving them far more than just "convenience" but truly independent and confident lives.
Smart home products are daily used devices, which might be connected with mobile or tablet via Wi-Fi or Bluetooth, and remotely controlled by apps. They are particularly useful for people with difficulty in movement.
In the following, we will name 10+ significant smart facilities benefiting incapacitated people in their daily routines. Of course, these products also serve the ordinary due to their extra comfy utilities but they would be more advantageous to physically limited individuals. You also can visit our article home robots in modern life to see other options of domestic robots that can be use nowadays.
And here we are, the top useful smart home technologies for the disabled:
1. Amazon Echo and Echo Dot
Amazon Echo, first introduced in 2014, is a smart voice-recognized device suitable for users with limited hand coordination. It is more likely an artificial assistant who would do your request when you call her name. The initial assistant's name, also known as the colloquial name of this device, is Alexa, inspired by electronic communication system in Star Trek series.
Two years later, a smaller device – Echo Dot was launched, which could be used as both an extension of the big Echo and a separated fully functioned product. The main difference is that Echo Dot is designed to connect with external speakers which is missed in Amazon Echo. However, Echo Dot internal speaker, when it is independently used, is not as beefy as the big Echo.
Amazon Echo and Echo Dot could be used with your mobile by wireless connection. Under your voiced requests, they will help you to the basic phone manipulations like:
Make calls
Set timers, alarms, Reminders
Do internet searches and
Create to-do lists.
One remarkable function of Echo is researching for answers by accessing Wikipedia online. If you ask her a random question like "What is the capital city of Australia?", then it will search keyword "capital city of Australia" and read the first line on Wikipedia.
You can also set up new voice-response skills on Echo via Alexa Skills Kit Apps. Many interesting skills for your device to learn are available and still continuously developed on Alexa Skills Kit like playing music, playing games or booking Uber ride, and so on.
Besides hand phone, Echo can be connected with other smart home products like cameras, smart door lock or smart TV as well. It is enhanced by its creator – Amazon day by day for more and more functions, which is promised to be reliable assistant for the disabled.
This is a great starting point if you are looking to make your home smarter. Amazon Echo is an ideal device for people who have limited hand coordination. This device together with the smaller Echo Dot helps the homeowner to issue commands using just their voice.
2. August Smart Lock
Even locking and unlocking rooms or houses can become burdens to people with certain disabilities. In this case August Smart Lock should be a necessary replacement for their traditional door locks.
With August Smart Lock, they will use their smartphone as keys to access homes or locked areas. They can also set up automatic function to open doors every time they approach and cancel it later easily. Its superiority lies in 24/7 activity log, allowing you to keep track of who comes, who leaves and when.
For frequent users, August smart lock will create unique key for each individual. Thanks to these features, it is not only more secured for the disabled to stay inside their house but also more convenient for their guests.
All of the above tasks can be done with August App, available for both iOS and Android. And it could also be used with Alexa, as known as Amazon Echo or Echo Dot as mentioned above. Hence, this smart lock is such a convenient and safe solution for houses of the disabled.
With this technology, filtering those who have access to your home is easy and can all be done from the comfort of your couch.
3. Yoolax Smart Blinds
Due to restricted movement, some disabled people have a real struggle with their window curtains, especially with a high one. For that reason, smart blind or similar smart shade is born to serve this need.
One brand for this product is Yoolax. A variety of additional functions are included in smart shade offers as well, such as, scheduling a specific time for rolling down the shade.
Such smart shades are very easy for self- installation at home. Apps are also provided along with each product to maximize users' experience. Most of them could be also commanded by Alexa; as a result, it is more convenient for people with mobility problem to use these smart curtains in their house.
4. Smart Lighting
Lighting is yet another key factor involving home accessibility for the disabled. Given the way we install the lighting, people with limited mobility might have trouble reaching the switches. As such, we need smarter home solutions.
No longer groping in the dark to look for a switch on button, the handicapped now find it easier in the light with the smart bulbs.
The good news is that most of the popular smart lightning providers, such as: Phillips, Kasa, DreamColor or TP-Link… have cooperated with Alexa for voice controlling. All you have to do is just saying "Alexa, turn the light on" or simply touch your mobile screen, which is so easy peasy for all people. In case you do not have Echo, Google Assistant also works well for some brands.
The lightning bulbs are also various in design, brightness, size or color. Example: Wemo Light Switch. Some devices like TP-Link also have functional program to schedule switch on – switch off time or adjust dimmer light to save energy or meet your needs for brightness. These kinds of bulbs are quite affordable for normal people so it could be popularly used in your own house.
5. Smart Vacuums
Last but not least, living alone will bother the disabled most when they try to clean their own place. Smart vacuums, in this case, might be an assistant for them to tidy up. Of course, those vacuums mostly work with Alexa and they are very user-friendly.
You would have an abundance of choices among a lot of brands available on the place. We would recommend the iRobot Roomba due to its smart program fort dirt detect sensor or automatic docking and recharging. With its flat small size, it could reach everywhere in your home for cleaning. And finally Roomba gets quite along with your other "assistant Alexa".
Neato Robotics D7 is also a good choice. It has a premium design with silver and black color. Neato is also smartly programmed with a laser floor map scanner system. It could block off the big obstacles like clothes or toys and minimize the damages for your home.
Not only disabled people but also the ordinary would be comfortable with these smart vacuums. Thanks to them, you are now more free from your housework dune.
6. Smart Thermostat
Have you, at any point, woken up somewhere in the night feeling freezing cold or extra hot, yet it would be genuinely physically excruciating or impossible to get out of bed? This will not be your concern anymore with a smart thermostat.
This device should be able to keep your living place at the specific temperature you wish. You can adjust the temperature from your phone anyplace in your home. Or when you are out, you may want to reduce the heat for energy-saving and turn it back since I begin to head home.
We recommend the ecobee4 Smart Thermostat with Built-In Alexa. The Google, T3007ES, Nest Learning Thermostat is another fantastic choice. No matter which you go for, it will provide you with enhanced control over your environment's comfort, all the time.
7. Smart Doorbell
People with constrained mobility may find getting up to answer the door is a challenge, and it is particularly baffling in case it ends up being somebody with whom you would prefer not to interact. Thanks to a cutting-edge smart doorbell with video, you will be able to see who is standing on the doorstep. That is not all; at times, you even can have some direct communication with them.
The Smart Home WiFi Video Doorbell from ZhiLiao features a night vision camera with a broader angle of view than a standard lens to offer you an unmistakable view. As the two-way sound works through your smartphone, you will be able to answer your door remotely. Plus, the model's motion detector will help make you aware of a guest before they even ring your doorbell.
You also may like that the device is simple to set up. Without cables and wires, all you have to do is download and connect the APP to the video doorbell. You will then be able to use your phone to have a live video whenever necessary.
As a bonus, there is no cloud month to month fees related.
8. Smart Bed Sensor Pads
Having the option to get help rapidly on the off chance that you have a fall is critical, and that is particularly significant in case you are living independently. So this Bed Alert System for Fall or Wandering Prevention by Smart Caregiver Corporation will provide your family
In case you missed it, Smart Caregiver is among the foremost names with regards to this kind of item. There are heaps of various product units in their range that are intended to give quick, dependable alerts. These items have specific subtle differences in the attributes, range, and size of the mat; this bed sensor pad and alarm is in the value go and has numerous positive feedback.
There are some incredible highlights to both the alarm system and the pad. This model's pad is 10 x 30 inches with integrated pressure sensors. This implies it ought to be huge enough for a sure indication of your movements. As soon as the pad gets activated, it will deliver an alert to the useful TL-2016 monitor. Further, here carers can adjust the volume and get alarms once the battery is low or if the pad is lost. How rapidly the item sends the signal to the monitor from the bed is hardly doubtful.
Carers and family members additionally like the way that this item is capable of sending a signal to many receivers in other rooms. In other words, a clearer alert is accessible; it will not really be as alarming to the senior.
The main issue here is that purchasers should buy extra monitors to attain this. This can raise the costs of what is a pretty pricey thing to begin with.
There will likewise be a few carers that will not be too enthusiastic about the way this is a corded unit. Cords may be dangerous now and again, or probably come loose.
Is it recommendable?
The drawbacks to this product are not that huge a deal in comparison to many other bed pads and alarms. You get a better-than-average amount of kit for your cash – regardless of whether they do need to purchase extra receivers. The system is additionally quite reliable.
But be that as it may, you still should address whether you need a system with or without a cord in your bedroom.
9. Smart Vanity Mirror
An appropriately situated and well-lit mirror is an absolute necessity when it comes to being ready for your day. The simplehuman Sensor Lighted Makeup Vanity Mirror removes any potential issues related to utilizing the mirror.
The surgical-quality LED lights will turn on since you approach and off as you walk away. Also, the motion sensor does a fantastic job of keeping them on for whatever length of time that you want.
What is more? The lighting emulates natural daylight; that is why you will know precisely about the look of your face when you go outside. 5X amplification allows you to see everything with ease and your whole face at the same time.
Furthermore, the storage battery lasts for 35 days between charges. This genuinely beautifully made model has the top-quality mounting system, which makes it simple to install. Overall, while it may be "a spendy mirror," it is undoubtedly worth the price.
10. Smart Plant Watering
Are you among those with a disability who love tending and cultivating a garden? If you are, the possibility is, it is troublesome to keep your beloved plants watered, without assistance. But be that as it may, a smart watering system – for example, Rachio Sprinkler Controller should be able to make the process a lot simpler and let you enjoy your precious plants.
The system from Rainmachine will enable you to allocate various zones in the garden; thus, directing water where it is most necessary is a piece of cake. Being weather-aware, the product can make proper adjustments to the watering plan contingent upon the current weather (for instance, more water in a prolonged period of abnormally hot weather), and also tracks your local weather forecast.
This Rainmachine works well with just about any common operating systems such as Google Assistant and Alexa. Impressively enough, it has its own system of operation. You can even program it via If That Then This, for instance, to activate a watering session in case a specific temperature gets reached.
Other upsides of this model should be effortless installation, its being WaterSense Certified for performance and efficiency, and voice control ability.
11. Smart Laundry
Anything with the ability to make laundry simpler is always welcome. Plus, for people with a handicap, it is considered imperative to simplify the home chore. You can control the LG WM3499HVA All-in-One Washer/ Dryer through the SmartThinQ app or a home hub, which enables you to choose the cycle, turn on or off the machine and get an alert once the cycle is done.
Owing to the 6motion innovation that incorporates drum moves, agitating clothes gentling but effectively becomes more accessible than ever. The combo gadget implies there will be no swapping of wet garments starting from one machine then onto the next; it is a significant consideration for those with restricted mobility. Besides, the app works as an indicative gadget, cautioning LG if the machine builds up an issue.
Other things you may love are the standard 2.3 cu. Ft. capacity, Steam Clean Technology, Cold Wash Technology, 110V power which makes it versatile, and SmartThinQ Wifi Technology for expanding the laundry room's limit.
Summary: 10+ smart home technologies for the disabled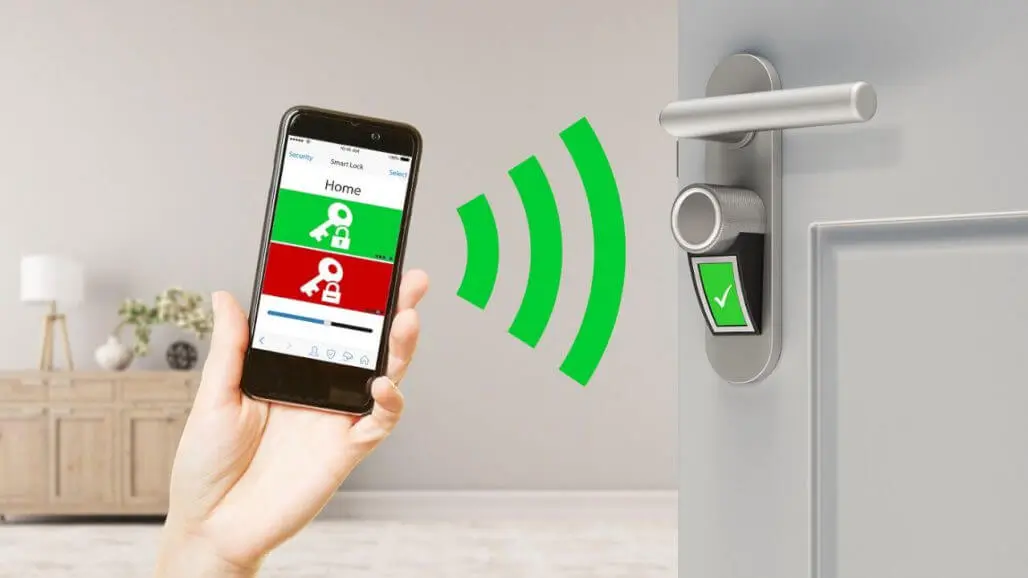 We have gone through 10+ devices for your smart house, including:
Four later devices could be compatible with Alexa for voice command. And thanks to this hands-free feature, above inventions are more beneficial to the disabled who have difficulty in walking and using their hands. For that reason, we can believe one truth that today's advanced innovations wouldn't leave any of us behind; everybody can benefit from them.