If you're looking for ultimate solutions for protecting your home or apartment from thieves, smart home security devices are tempting choices. You can control the doors, windows, lights, air conditioners, or even set the cooking time for your oven. Especially, by connecting the devices to your iOS or Android devices, you can keep track of your assets even when you're far away from them.
But regards the undeniable conveniences these devices provide, it's still very important to choose a good product. Below is the complete rundown of outstanding smart home security devices we've tested so far.
To make it simple, we've categorized these devices into two major groups: smart lock systems and surveillance camera systems.
Smart Lock Systems
It is a simple, useful, well-designed set of devices that allows you to have complete control of your home. The package comes with two sensors for doors and windows, a motion-sensing camera, a key controller, and a gateway. Besides, you can control the whole security process via your IOS or Android devices; the only thing you need is an Internet connection.
If there is one thing that bothers me the most, it would be the door sensors which are needlessly bulky, making it pretty hard for installation.
Moreover, the Adobe Connected Home Security & Automation Starter Kit is compatible with Alexa.
This is a smart lock called August Pro, coming with necessary connectors that allow you to control your door from anywhere. You can lock or unlock it, even when you're not at home, with a simple swipe on the smartphone screen. What's more, August Pro will automatically unlock the door when you arrive and lock it behind after you leave.
Moreover, the device can work with Alexa for voice control, so closing or opening the door would be just the matter of a simple voice command. The DoorSense technology ensures your door completely safe and secured. All in all, there is no doubt about this device's superiority, only its high-pricing matter.
Surveillance Camera Systems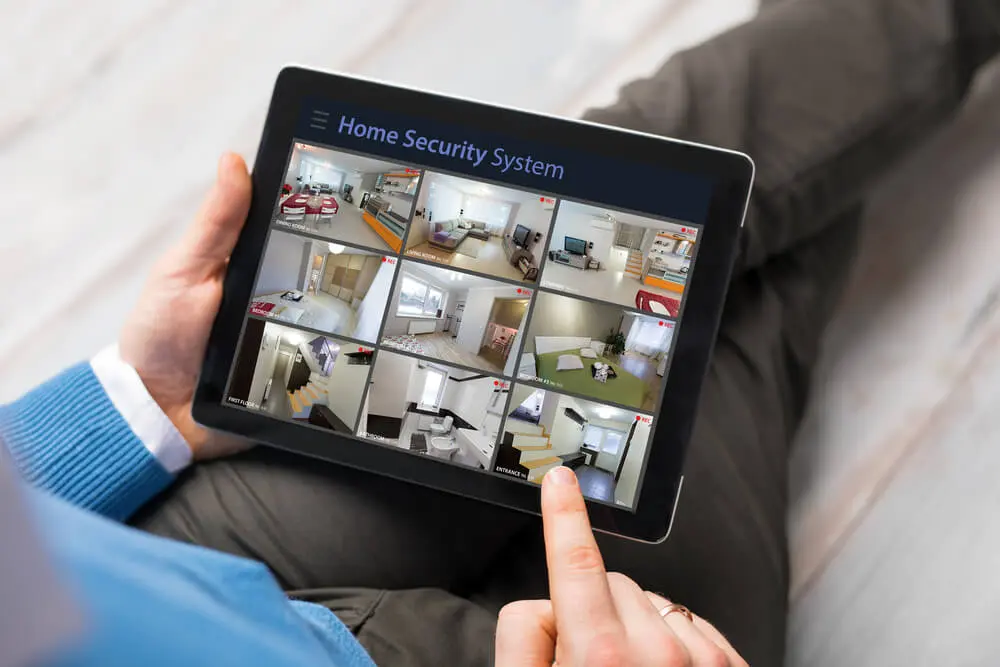 At first glance, this product looks pretty similar to a typical video doorbell which is designed to help homeowners interact with their guests from the outside. But what makes SkyBell HD special is its Wi-Fi adapter for the connection to other available smart devices in your home, such as your smart lock.
The SkyBell itself has a high display resolution (1080p) with full-color night vision. You can stream the image of your smartphone using the Alarm.com app.
However, the SkyBell HD is a little bit dull when it comes to motion detection, which would take a while to realize that people are standing at the door.
This is a surveillance camera for high-quality live streaming. Simply opening the Tend Secure app on your smartphone or laptop, you can monitor what's going on your house or chatting with your beloved ones. The image quality is good at 1080P resolution. Additionally, the face detection works really well by automatically recognizing familiar faces to eliminate false alarms.
Although you're able to stream and save what you've streamed from the last 7 days on the free Cloud storage, the device needs a stable Internet connection to work with. This means you cannot perform offline recording in any way.
Although this device is highly priced compared to the twos above, it is a great solution for anyone who is looking for a full-featured standalone surveillance camera.
The system comes with a motion and sound sensor, high-quality images (720p HD), and other interesting features. On top of that, it can work on its own or be attached to other iSmartAlarm security systems. You can perform streaming. Also, you can record online or offline videos using the Cloud storage or an SD card, respectively.
About the drawback, the motion detection doesn't work well on faraway targets. But luckily that wouldn't be a problem if your room isn't too big.
This all-in-one surveillance is perfect if you're looking for an ultimate security solution for your home. The Arlo Pro is compatible with Amazon Alexa, Google Assistant, Echo Show, and Fire TV. It is weather-resistant thanks to a durable construction, so you can place it anywhere, either indoors or outdoors.
Especially, the two-way built-in audio system is featured with both mic and speaker. So, you can listen in and talk back with ease. For storing your recorded live-streamed videos, you can choose either using the free Cloud storage (allows up to 7 days of recordings) or connecting the device to an USB.
Moreover, the system works completely wirelessly and comes with the fast-charging features. But it's not perfect though as the audio recording isn't up to par, not to mention its pretty high price.
The IoT (Internet of Things) has made it much simpler than ever before when it comes to set up a smart home in which you can remotely monitor and control your home from anywhere via your smart device and an app. Hopefully, today's roundup of top six smart home security devices can help you find the right product for your home.
Summary: 6 best smart locks and smart homes security devices: