As an Amazon Associate, we earn from qualifying purchases. This means that if a reader clicks on a link or an image of the product, we may receive a commission. There is no additional cost to you — it helps pay for hosting and server costs. And it does not affect the quality of the content, as we always recommend our readers the best sources.
Since the first household robot, released in 2002, Roomba has become the most widely known brand for smart vacuum cleaners.
For busy people who couldn't spend much time on their housework, we would recommend Roomba as a best choice for your balanced lifestyle.
In this article, we would like to introduce to you top four bestsellers and smartest Roomba series.
Introduction of iRobot Roomba
For the past two decades, Roomba has developed many series of products with enhanced and innovative functions. Several series are no longer for sales like Originals, Professionals, Discovery, 400, 500, 700, 800; while others are continuously improved or invented day by day.
For that reason, iRobot Roomba still survives as one of the most favorite smart vacuum brands despite the fact that more and more similar and cheaper products have appeared in the market.
Everyone admits that their Roomba is smart, but is yours the smartest one?
Basically, all Roomba products have advanced sensor technology; thanks to which, they could navigate the floor map, detect household, dirty spots or other obstacles while cleaning and avoid falling downstairs.
Their side wheels allow these machines to spin 360 degree to clean your floor better than any other traditional vacuums.
More ideally, all above robots work with Alexa for voice command, just say, "Alexa, tell Roomba to vacuum my house", then your apartment would be clean and clear in a few minutes.
In the following review, we will point out only some of extra functions and improvements in these models. Now, let's consider the pros and cons of each item above:
Roomba e5 in e- series
In September 2018, Roomba e5 was released by iRobot to replace the backward 800 series. It is seen as a typical Roomba product from the acquaint disc-shaped appearance to other basic functions.
Instead of running for only 60 mins as 800 series, Roomba e5 can clean your house in maximum 90 minutes before automatically docking and charging.
Moreover, Roomba e5 is recommended for the home with pet or hairs, thanks to the enhancement in 3-stage cleaning and powerful air suction systems. It is also equipped with Dual Multi Surface Rubber Brushes, which is very helpful to clean the hard floor and carpets.
The debris bin is also bigger than the precedence 800 series. You can easily remove this bin from the vacuum, empty, and replace it.
The only annoying thing about this Roomba e5 is that it doesn't notice you when this bin is full. Producer also recommends you should replace the air filter at the end of the debris bin every 2 to 3-month period.
iRobot also stated that their Roomba e5 can clean both allergens or dust you can see and the ones you can't. Well, in fact, the machine does work well in detecting dirt and other articles.
A good navigation system also helps it clean under big furniture like beds or sofa. Indeed, this Roomba e5 used to be the most advanced one at the time it was introduced to the public.
Roomba 960 in 900 series
Roomba 960 was born earlier than e5, in 2017 but we would recommend this old series rather than e5.
Apart from the common functions with e5 in cleaning hard floor and carpet, clearing out pet hair, detecting dirt and other objects or running 3 stage cleaning, Roomba 960 has some significance which makes it a bit more stand-out when compared to e- series.
Although Roomba 960's run-time is only 75 minutes, it could automatically dock and recharge, then, continue to finish the job afterward. Therefore, you do not need to order it back to work as you have to do with Roomba e5.
We find this innovation quite helpful because it is nonsense for people to watch their robots out, noticing when it stops or when to command it again after it is fully charged. So honestly, 960 is smarter than e5 as a "robot".
Besides, 960 has an improved visual simultaneous localization and mapping system (vSLAM) which truly optimizes the cleaning job.
It would take Roomba 960 a longer time to map the floor but then, it goes around gracefully and handles new obstacles with ease. Users can get the entire cleaning maps from 960 through the map. You can also use it together with another iRobot's product: Braava jet to mop your house after vacuuming.
Roomba i7+ in i- series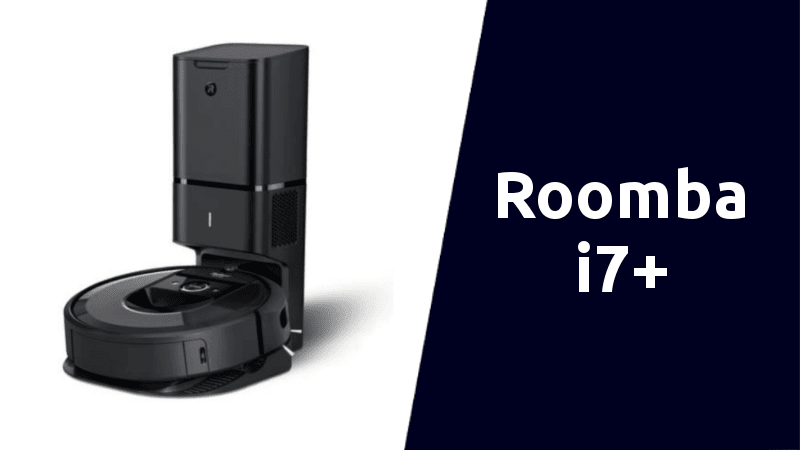 Roomba i7+ was introduced at the same time with e5 but it has been seen as a premium product by users. In our opinion, this i7+ is truly superb because you will be totally hand-free when using it.
Indeed, for most of the vacuum robots, their dust bins are quite small and you need to keep an eye on it to empty the bins, or else, they couldn't work well.
With Roomba i7+, you do not need to worry about it anymore. This robot will automatically empty its bin and pour the dust or hair into a disposal bag named Allergen Lock. This bag is exclusively convenient to hold the trash for up to 60 days.
As Roomba 960, i-series also have Auto-recharge-and-resume function to make sure that the job is not interrupted by low battery.
In fact, the cleaning duration of i7+ is up to 90 minutes for a cycle. In i7+, moping function is also sequenced after cleaning mode to bring you the highest level of satisfaction.
This series also gets a lot of compliments from users for its smooth operation and user-friendliness. It might be a bit noisy when emptying its dust bin but we could make sure that this process doesn't last too long and you will not be bothered so much.
Roomba S9+ in S series
Here we are! Our most favorite Roomba until now is S9+. Let say S9+ is designed smartly with the shape of a rectangle and crescent, for which it could clean the deep corners of your house perfectly. The copper-colored dish in the middle of this vacuum gives it a noble and robust look as well as distinguish it with other products.
As i7+, Roomba S9+ also has auto-emptying dust bin function which helps you hand-free in using and the sequence functions: vacuuming and mopping for your better experience.
In addition, S9+ is the most powerful among Roomba series, the engine runs up to 40X suctions which is 4 times stronger than i7+ and 8 times stronger than 960 series. We highly recommend this item for floors with thick carpets and animal fur for this power boost.
S9+ is also equipped with an anti-allergen system which provides you deep clean on pollen, or any other articles which might cause allergy for sensitive individuals.
We have to admit that it is a very thoughtful producer to innovate this function in their item. The users also love it for its duration and App integration. Because it is the latest series, all software is already updated for your usage.
Summary
Depending on budget and expectations for your robot vacuum, there would be various choices on the market for you to pick.
Above products are just our recommendation for your reference. Indeed, from e5 to S9+, Roomba series have a wide range of functions which meet the needs of their consumers.
If you have thick carpets in your apartment, you can choose S9+. If you just want a medium strong vacuum which is suitable for houses with pets, i7+ or 900 could be nice choices. Or maybe you want a decent but budgeted item, then e5 is just for you. We truly hope you could stay comfortable in your clean and tidy house with the help of a Roomba cleaner.
If you are about to buy a smart vacuum, you can also check out our article on Eufy, Deebot, Dyson, Shark ION and Neato in comparison to Roomba.
Comparison table
| Function | Roomba S9+ | Roomba i7+ | Roomba 960 | Roomba e5 |
| --- | --- | --- | --- | --- |
| Runtime | Auto-Recharges & Resumes | Auto-Recharges & Resumes | Auto-Recharges & Resumes | 90 minutes |
| Edge-Sweeping Brush | Yes + Corner Brush | Yes | Yes | Yes |
| Customized room to clean and schedule | Yes | Yes | No | No |
| Deeper cleaning on carpets | Yes | No | No | No |
| Anti-Allergen System | Yes | No | No | No |
| Cost | Check Price | Check Price | Check Price | Check Price |