As an Amazon Associate, we earn from qualifying purchases. This means that if a reader clicks on a link or an image of the product, we may receive a commission. There is no additional cost to you — it helps pay for hosting and server costs. And it does not affect the quality of the content, as we always recommend our readers the best sources.
As technology continues to advance, we are seeing a significant shift in the way we make payments. With the evolution of mobile payments, carrying cash or credit cards has become less of a necessity for consumers. However, mobile payments may no longer be the only contenders in the payment space. In recent years, wearable payments – paying with a wearable device – have risen in popularity.
The growth of wearable payments is likely to continue, with industry experts projecting that the wearable payment market will be worth over $42 billion by 2024. As consumers become more comfortable with this payment method, wearable payments can become an everyday occurrence. Here, we will explore the emerging trend of wrist wearable payments (also "wrist wallets") and how they are transforming the payment landscape.
What exactly are wrist wearable payments?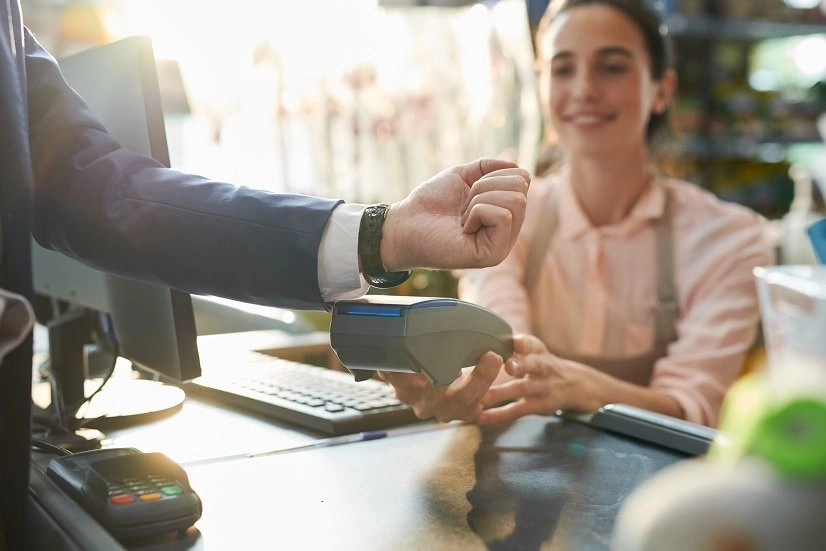 Wrist wearable payments (or "wrist wallets") are a relatively new type of contactless payment that enables you to make purchases using a wearable device, for example, a fitness tracker or smartwatch. The wearable device functions as a digital wallet, storing the user's payment information and enabling them to make purchases easily by tapping or waving their wrist. This feature relies on near-field communication (NFC) technology, which allows for wireless communication between two devices when nearby, allowing quick and easy payments. This makes wearable payments even more convenient than contactless credit or debit cards since the device is always securely on the user's wrist. 
According to industry experts, the global market for wearable payments is projected to soar to $1.3 trillion by 2028 after being valued at $285 billion at the end of 2019. This rapid growth points to the potential for wearable payments to become a common payment method soon.
Their features
Wearable payment devices offer users a range of features, including:
A large display that shows the amount paid and transaction status.
A button or touch screen that enables payments.
Built-in security features such as a PIN or password to protect personal information.
Capability to track spending and create budgets.
Capability to pay with both cash and credit cards.
These make wearable payment devices versatile and convenient for users. The built-in security features ensure that transactions remain safe and secure.
Alternative payment methods
As we move away from a cash-based society, alternative payment methods (APMs) are becoming more popular. APMs are essentially another way of paying apart from using cash. While credit and debit cards have been around for some time, we're now seeing an exciting new development in payment trends.
The global pandemic has been a catalyst for these changes, as it has led to digital-first behaviors and a shift toward contactless payments. Contactless payments have increased by 36% compared to 2020, and 52% compared to the pre-pandemic era in 2019. During the pandemic, online banking has also become increasingly popular, as people wanted to avoid visiting physical bank branches. These changes in behavior have opened the door for more opportunities in the APM market.
General wearable use was trending globally with 171 million units shipped in Q4 2020, up 10.8% YoY as per IDC reports. Here are the connected wearables worldwide in 2021 (in millions):
Asia Pacific – 258.2,
Central and Eastern Europe – 55.6,
Latin America – 39,
Middle East and Africa – 37.5,
North America – 378.8,
Western Europe – 159.7.
Wearables aside, other alternative payment methods include mobile payments, e-wallets, and cryptocurrencies. Wearables are part of this new wave, enabling consumers to make payments directly from their smartwatches, fitness trackers, or other wearable devices. Essentially, businesses keep up with these trends to offer their customers an easy, convenient, and secure payment method that's fast becoming the norm. 
Wrist wearables – the next trend in payments
Wearable payment devices have emerged as an exciting new trend in payments. These appliances can be worn, providing an alternative payment method to physical payment cards. Expectedly, the wearable wallet market will grow at a compound annual growth rate (CAGR) of 29% during 2022-2032.
Big Tech Apple, Google, and Samsung are some of the companies that stay ahead of the curve in this category. They all already pair their smartwatches, including Apple Watch and Samsung Galaxy, with their mobile wallet offerings. This allow contactless transactions. Google completed its Fitbit acquisition (along with Fitbit Pay) in 2021 and had a self-branded smartwatch Pixel Watch in 2022.
The shift towards wearable payments extends far beyond the big tech companies, with a range of businesses worldwide offering wearable wallets such as watches or wristbands. For example, Bulgaria-based iCard offers its cards on Garmin Watch. US-based Bee boasts the world's smallest wearable wallet, a 0.9-inch device that can be attached to watches or bracelets. This brand's wearable device is activated via a fingerprint scan and has advanced security features to avoid accidental charges. PureWrist and Coil are some other instances of US-based enterprises that provide watches, wristbands, and other wearable wallets.
With more futuristic scenarios, many wearable options go mainstream. These include microchips that can be inserted into your hand. For example, London-based Walletmor introduced payment implants that they have biopolymer devices implanted under your skin. Thanks to this NFC-powered implant, you can make payments with your wrists or hands.
As payment experiences continue to evolve, you may see more connected wearable devices come into the market, making payments even more seamless for consumers. The possibilities for wearables in payments continue to expand with technological advancements. This means that the revolutionary payment method is gaining popularity faster than ever before. Wearable payments are convenient, which makes them the perfect payment solution for always-on-the-go users.
Advantages of wearable payments
They offer numerous advantages that traditional payment methods lack.
1. Convenience
Portability is one of the most significant advantages of wearable payments. No need to remember carrying cash, or credit cards, or bustling through your handbag searching for your mobile phone to make payments. A single tap on a contactless payment terminal with your wearable device and you're good to go.
2. Security
Wearable payments are a more secure payment option since they securely store your payment credentials. Your payment information is protected by either biometric authentication, for example, fingerprint or facial recognition, or a passcode. This increases the difficulty for hackers or fraudsters to steal or replicate your payment information.
3. Speed
Wearable payments are faster than traditional payment methods. They allow you to complete transactions with the simple gesture of tapping your wrist on a payment terminal. Thus, you can eliminate the need to scramble for cash and cards, reduce the checkout time, and decrease the time spent in stores.
4. Reduced risk
Wearable payments presenting contactless payment solutions decrease the chances of spreading viruses and germs through unclean payments. By using wearable payment devices, you can securely make payments with minimal physical contact.
Takeaway: Wearable payments provide unmatched convenience, security, and speed in today's fast-paced world. The flexibility of wearable payments and their contactless nature ensures both a seamless payment experience and maximizes hygiene in comparison to traditional payment methods.
Best wrist wallets in 2023
How to choose your best wearable payment device
The market for wearable payment devices is worth more than $82 billion. With a multitude of options available, how can you choose your best fit? Here are some considerations:
1. Your lifestyle
Consider your lifestyle when choosing this device. If you often wear clothing with pockets, a contactless payment device may be suitable.
2. Your financial situation
If you have a smartphone with NFC capabilities, choosing an NFC wearable payment device may be beneficial for you.
3. Card type and bank account
Ensure that the device of your choice can support the card type and bank account information of the cards you want to use with it.
4. Features
When selecting your device, consider the features that are important to you, such as large displays, buttons or touch screens, built-in security features, and the ability to track your spending and budgeting.
Takeaway: Choosing the best wearable payment device for you involves evaluating your lifestyle, financial capabilities, and personal preferences. Ultimately, selecting the right device comes down to finding the one that best meets your needs.
Top 3 best smartwatches and fitness trackers for contactless payments
Aside from innovative wristbands like NYMI Band 3.0 and Get by Deed, here are some best smartwatches that allow payments:
1. Fitbit Charge 5
Fitbit is known for its fitness bands, but the Charge 5 offers more than just step-counting. It can track your vitals, comes with Fitbit Pay, and encrypts every transaction.
2. Apple Watch
The Apple Watch offers top-of-the-line features like vitals tracking, music playback, and GPS. Payments are made via Apple Pay, which uses Apple device encryption and is accepted worldwide.
3. Samsung Gear S3
This device, although over 5 years old, still delivers. Its Samsung Pay service gives more payment options than competitors, even magnetic stripe reader payments. Plus, it doesn't need to be connected to a phone to make payments, making it an affordable and convenient option.
The future of wrist wearable payments
Though new, wearable payments are gaining popularity with an expected value of $501.1 billion by 2024, up from $42.3 billion in 2020, as per Juniper Research. This growth is being driven by the increasing adoption of wearable devices and the growing preference for contactless payments.
Trends influencing their future include:
1. Growing adoption of wearable devices
IDC has predicted that the global wearable market will reach 279 million units shipped by 2023, up from 198.5 million in 2019, and this growth is attributed to the increasing popularity of smartwatches and fitness trackers.
2. Integration with digital wallets
Digital wallets like Apple Pay and Google Pay offer a secure way to store payment information and make payments through mobile devices without carrying physical cards. Integration of wearable devices with digital wallets brings more convenience to the transaction process.
3. Expansion into new markets
Wearable payments are now being used to pay for public transportation in several cities and in hotels or resorts to replace room keys and make purchases. This offers more convenience to commuters and guests.
4. Loyalty program compatibility
Wearable payments are being integrated with loyalty programs, offering rewards and discounts on purchases made through wearable devices. For instance, fitness trackers can give their users rewards for meeting their fitness goals and using their devices to purchase from participating merchants.
5. Technological advancements
Wearable devices now include biometric sensors like heart rate monitors and electrocardiograms (ECGs) that authenticate payments. This makes them more secure and eliminates the need for passcodes or PINs.
Takeaway: The future of wearable payments is promising, as the adoption of wearable devices continues to grow. Besides, the integration with digital wallets, entry into new markets, compatibility with loyalty programs, and technological advancements provide more convenience and security in the transaction process.
Understanding the risks of wrist wallets
Wearable payments have gained popularity due to their convenience, but they also present risks that you need to know.
1. Security breaches
Wearable devices with biometric authentication features are still susceptible to hackers and fraud. It may result in unauthorized access to payment information and personal data, leading to identity theft.
2. Loss or theft
These small devices can be lost or misplaced. And if a thief gains access to payment information, unauthorized purchases are possible. Remote data erasing may not always prevent this.
3. Technical malfunctions
As with any electronic device, wearable devices may malfunction. This causes payment transactions to fail or be processed incorrectly, leading to financial disputes.
4. Limited acceptance
Not all merchants accept wearable payments. Some situations may require cash or traditional payment methods, and not all wearable devices are compatible with all payment systems.
5. Privacy concerns
Wearable payments collect data about users' activities and movements. These can be sold or used for targeted advertising, which raises privacy concerns.
Takeaway: As wearable payments become increasingly popular, you must be aware of the risks they pose. Security breaches, loss or theft, technical malfunctions, limited acceptance, and privacy issues are essential factors to consider while using this technology. It's vital to understand these risks before relying solely on wearable payments.
Frequently asked questions about wrist wallets
Wearable payment devices are becoming popular among consumers for their convenience. However, there are still some uncertainties surrounding this technology. Here are some frequently asked questions about them:
1. What are the popular brands of wearable payment devices?
Some of the most popular brands include Apple Watch, Fitbit, Garmin, Samsung Galaxy Watch, and Google Pay-enabled smartwatches.
2. Are wearable payment devices accepted by all merchants?
No, not all of them accept wearable wallets, especially smaller businesses. The limited acceptance of wearable payments might restrict your ability to make payments using wearable devices. So make sure to verify the merchants who accept wearable devices before making purchases.
Final thoughts
Wrist wallets have the potential to be revolutionary in the way we make payments. Yet, they face significant challenges that need to be addressed to gain widespread adoption among consumers.
They need to convince consumers that they offer a unique and more seamless experience than mobile phones, which can also function as digital wallets. Their value proposition should move from nice-to-have to must-have.
Also, the price point of wearable devices will play a crucial role in their adoption. They need to be affordable for the mass market to expand their reach.
Furthermore, the limited history of the industry raises users' privacy and security concerns that need addressing. Consumers should feel confident that their personal information and payment data are safe and secure.